Cndnsd Vrsn: 4 PM Thursday April 25th ACS Room 123- Maximizing Bandwidth with Web100 and Net100
---
---
The next meeting of the Front Range UNIX Users Group (FRUUG) will be held at 4:00 P.M. on Thursday, April 25th. Peter O'Neil from the National Center for Atmospheric Research (NCAR) will talk about two federally-funded projects whose goals are to maximize the bandwidth that can be used for both Web and general IP network traffic-- the Web100 and Net100 projects.

The talk will cover the problems and goals addressed in the NSF-funded Web100 Project. It is common for applications, hosts, researchers, and others to be unable to take advantage of the national high performance network growth in bandwidth and accessibility. Without expert attention from network engineers, users are unlikely to achieve even 10 Mbps single-stream TCP transfers, despite the fact that the underlying network infrastructure can support data rates of 100Mbps or more. The Web100 project was created to reduce the "wizard gap" by producing a complete host-software environment that will run common TCP applications at 100% of the available bandwidth, regardless of the magnitude of a network's capability.

A complimentary Net100 project, sponsored by DOE, supports the development of a suite of tools for the high-performance networking community that enable computer operating systems to automatically tune network performance. While utilizing the Web100 code, Net100 has unique components (wide area daemons) that probe and sense the current state of the network, the capacity of the links, or the possible paths between sites, to get a real-time picture of the current capacity of the network. That information is passed to the operating system to tune TCP to the current network conditions. As the application runs, the operating systems on the end nodes will sense if there is congestion or if the link is being under-utilized, and actually re-tune the transfer as it runs.

Peter O'Neil is Senior Network Engineer for the National Center for Atmospheric Research (NCAR), a co-principal investigator of NSF and DOE funded projects, a member of the FRGP Management Committee, and participant in other national GigaPoP coordination initiatives. Prior to joining NCAR in 2001, he was Chief Architect at Callisma, Inc., leading national and international projects with network security and national telecommunications firms. For seven years, he was an Executive Staff Member of the Internet Architecture & Technology Group at MCI and then MCI WorldCom. His activities there included product design and evaluation of MCI's Internet offerings and services, especially for secure applications and transport mechanisms, and Internet policy advisor. He was the principal architect of MCI's managed security services which included firewall, intrusion detection, and exposure analysis offerings. Mr. O'Neil also had the lead role in analyzing and evaluating the risk and security issues associated with MCI's DSL rollout and other MCI product strategies for Internet Commerce, OSS, and strongly secure transactions.

His involvement with the Arpanet/Internet began in the early to mid 1980's while a member of the Corporate Research & Architecture Group at Digital Equipment Corporation. Collaborating with the National Science Foundation, DEC supported via equipment grants the creation of the Super Computing Centers at major US research universities and the nationwide single and multi-state regional networks used to further research and education purposes. He also directly sponsored a wide variety of computer, networking, and application related project technologies with leading US research faculty and Presidential Young Investigators--all this during the time when DEC didn't believe in the U word (Unix), TCP/IP, or workstations.

Prior to joining MCI, Mr. O'Neil was Director of Network Development at Advanced Network & Services (ANS), a company formed by MCI, IBM, and Merit to manage the NSFnet backbone cooperative agreement project with the National Science Foundation. ANS was the first company to provision a nationwide clear channel DS3 (45Mb/s) network and multiple interconnects with Canada, Europe, and the Asia Pacific Region.

Mr. O'Neil received a bachelors degree from Boston University and a masters degree from Harvard University. He was also appointed a Visiting Scientist at MIT's Artificial Intelligence Lab and a Visiting Scientist at Harvard University.
---
This meeting will be in room 123 of the CU Academic Computing Center building at Arapahoe and Marine Streets in Boulder. Marine St intersects Arapahoe at 38th St; the Computing Center is on the southwest corner.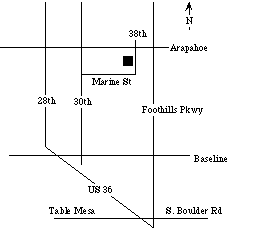 ---
At our first April meeting, Bob Gray and Dave Clements discussed security issues around 802.11b-based wireless networks and Wireless Equivalent Privacy (WEP). Bob and Dave could barely get a word in edgewise given the level of interest and number of questions during their talk. Leaving the audience astonished at how easy it is to crack wireless network security, and appalled at the number of networks that don't even turn WEP security features on at all, Bob and Dave went on to discuss ways in which you can secure your wireless networks. Their slides are avilable in the FRUUG meeting archive at www.fruug.org/mtgarchive/index.html.
---
Our next meetings include one on UNIX and MacOS X, and an update on the ongoing fight against spam-- unsolicited e-mail.
---
We once again have a Gift Certificate to SoftPro Books to give away to a FRUUG member that has earned a FRUUG Library Merit Badge by reviewing one of the books in our library. We will take a drawing at our next meeting to give this gift certificate away. If you're unfamiliar with the new FRUUG Library Merit Badge program, consult the FRUUG Library Page on our Web site.
---
No new books have arrived in the FRUUG library since our last meeting.
You may check out books using your business card as your library card; you must be on the membership list to check books out. Books are due at the meeting following the one in which they are checked out.
Remember that your FRUUG membership entitles you to discounts on your book orders from both New Riders Publishing and O'Reilly & Associates; refer to the FRUUG Web site for details.