Important FRUUG Giveaway Information Below
Cndnsd Vrsn: 4 PM Wednesday February 13th ACS Room 123- Open-Source Security Tools
---
---
The next meeting of the Front Range UNIX Users Group (FRUUG) will be held at 4:00 P.M. on Wednesday, February 13th.

Last spring, the CSI/FBI computer crime survey reported that 91% of the organizations they surveyed had detected a security breach in the prior 12 months, and 95% of those organizations already had a firewall in place. This combination of statistics is more than concerning.

Fortunately, a new generation of open-source security tools in on the loose, and Trent Hein and Ned McClain of Applied Trust Engineering will shed some light on them. With a small amount of effort, you can use open-source tools to dramatically improve the security of your site. Learn about freely available, full-featured network scanning tools such as Nessus, nmap, and ndiff, as well as new tools to facilitate security forensics such as TCT.

As an added FRUUG-exclusive bonus, attendees will receive a pre-publication copy of the security chapter from the soon-to-be-released Linux Administration Handbook (by Evi Nemeth, Garth Snyder, and Trent R. Hein).

Trent Hein is co-founder of Applied Trust Engineering, a leader in holistic infrastructure and security. Trent worked on the 4.4 BSD port to the MIPS architecture at Berkeley, is co-author of both the UNIX Systems Administration Handbook and the Linux Administration Handbook, and holds a BS in Computer Science from the University of Colorado.

Ned McClain, co-founder and CTO of Applied Trust Engineering, lectures around the globe on applying cutting edge technology in production computing environments. Ned holds a BS in Computer Science from Cornell University and is contributing author to both the UNIX System Administration Handbook and the Linux Administration Handbook.
---
This meeting will be in room 123 of the CU Academic Computing Center building at Arapahoe and Marine Streets in Boulder. Marine St intersects Arapahoe at 38th St; the Computing Center is on the southwest corner.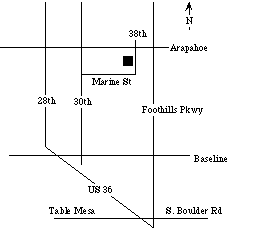 ---
Notes and resources from our past meetings are available at www.fruug.org/mtgarchive/index.html.
Most recently, Tom Cargill gave a talk on Microsoft's .NET initiative, separating the hype from the technical details of the .NET virtual machine. Tom's slides are available in the FRUUG Meeting Archive.
Also, as a follow-up to our December "Smart Home" meeting, Gary Koenig gave the cook's tour of one of McStain's model homes that they let him loose in. Gary gave lots of references to technology on display there, and they've also been added to the FRUUG Meeting Archive.
---
Our next meeting will focus on how to secure your DNS server, presented by Cricket Liu, co-author of O'Reilly &amp: Associate's DNS and BIND, 4th Edition. Learn how to earn a free copy of this book by reading FRUUG Library Notes below.
---
With this meeting, we're inaugurating our new FRUUG Giveaway program with new eligibility rules. In order to be eligible for our giveaway that includes Gift Certificates to SoftPro Books and Special Giveaway Books from our publisher sponsors (and of course the occasional T-Shirt), you must have earned a FRUUG Library Merit Badge by reviewing one of the books in our library. These reviews can be as short or as long as you like (within reason), and once you've given us one, your eligible for our giveaways from then on. Details are on our FRUUG Library Page on our Web site.
Just so we don't end up with the absurd situation of one person winning all of our giveaways because only one person writes a book review, we're guaranteeing the first five people to earn the FRUUG Library Merit Badge the gift of your choice from the following selections:
A $20 Gift Certificate from SoftPro Books in Boulder or Denver. If more than one person per month selects this option, you'll be put in the queue to get the next one we receive (SoftPro donates one per meeting).

The book of your choice from the FRUUG library. Yes, any book you like. Yes, if you're one of the first five, review the book and then keep it.

A brand-new copy of DNS and BIND, 4th Edition by Paul Albitz and Cricket Liu. O'Reilly & Associates have donated an extra copy of this book for our March/April meeting on Securing your DNS server, to be presented by Cricket Liu. (We have only one copy to give away, first come, first served).
Please refer to the FRUUG Library Page on our site for details on how to submit a book review.
---
Our FRUUG library sponsors are reminding us that they are providing us with review copies of their books in order to get, well, reviews of them. In order for us to continue to receive their generous donations, we need to start giving them feedback on their books. If you check out a FRUUG book, please plan to write a paragraph on what you thought of the book, or point out areas that you particularly liked or didn't like. They don't have to be polished reviews for publication-- they are reviews for them to improve their books. If you can manage to put a few words together, please send them (along with the title and publisher of the book) to gaede at fruug.org and we'll send it along to the appropriate people.
New in the library this month are:
Linux System Administration, A User's Guide, by Marcel Gagne, from Addison Wesley
Solaris 8 Security, by Edgar Danielyan, from New Riders
You may check out books using your business card as your library card; you must be on the membership list to check books out. Books are due at the meeting following the one in which they are checked out.
Remember that your FRUUG membership entitles you to discounts on your book orders from both New Riders Publishing and O'Reilly & Associates; refer to the FRUUG Web site for details.