---
Cndnsd Vrsn: 5:15PM Thursday 4/20 — Xen, Paravirtualization, & Solaris
---
---
The next meeting of the Front Range UNIX Users Group (FRUUG) will be a joint meeting with the Front Range Open Solaris User Group (FROSUG). The meeting will be held at 5:15 P.M. on Thursday, April 20 at the CU Engineering Center, room ECCR-150. We're trying out some potential new permanent locations for FRUUG meetings, and this one comes courtesy of Dirk Grunwald of the Computer Science department. Why the new time? Metered parking on the north and south sides of the Engineering Center becomes available to the public at 5:00. With the late starting time, we'll begin the meeting promptly. More details are in Meeting Location (below).

Xen is a hypervisor that supports an idealized hardware platform onto which you can run your favorite operating systems, each secure in their own virtual machine environment. With Xen, you can run multiple operating systems on the same server, and you can easily support each of your services in a different virtual machine-- allowing for greater security and offering the ability to move operating system instances from server to server as workload demands change. (For a quick background article on Xen, see Nathan Torkington's O'Reilly Network article at: (http://www.oreillynet.com/lpt/wlg/6522).

At our April FRUUG meeting, Stu Maybee will talk talk about what is involved in preparing an operating system for execution in a paravirtualized hypervisor environment such as that provided by Xen. Given that Stu works at Sun Microsystems, and his favorite operating system is the Solaris OS, he'll talk about supporting it on Xen on x86-architecture platforms.

Stuart Maybee has been working on operating system internals for more than 25 years. The last decade has been as a member of various Solaris kernel teams at Sun Microsystems. Stu holds a degree in Computer Science from the University of Colorado.
---
As you probably know by now, the CU Academic Computing center seminar room that we used for more than a decade is no longer available to us, so we've been checking out some potential new meeting places, the CU Engineering Center being one of them. We've changed the meeting time to accommodate traffic and parking on campus, and hopefully it will allow more people to attend. We'll also be announcing these meetings through the CU Computer Science department, and we'll hopefully gain some synergy with the university as a result. Let us know what you think via the alias "exec" at the domain fruug.org.
This meeting will be held the Engineering Center Class Room wing, room 150, or ECCR-150. This wing is on the southwest corner of the CU Engineering Center, located at the corner of Colorado Boulevard and Regent Drive (see map below). There is parking available on the north and the south sides of the building. Last we checked it becomes free at 5:00, hence the 5:15 meeting start time. (Please double check the meters before you park).
For more details on getting to the Engineering Center, please visit: http://www.cs.colorado.edu/department/gettinghere/, and for a detailed map of the building itself, visit: http://www.cs.colorado.edu/department/maps/eccr1.html.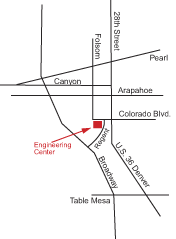 ---
FRUUG, originally the Boulder Users Group (BUG), was founded almost 25 years ago because there was no group forum in which local professionals trying to make sense of the then-unsupported UNIX operating system could get help understanding and running the system.
Now that Sun Microsystems has open-sourced substantial portions of its Solaris Operating System, the Front Range OpenSolaris Users Group has formed and has meets to help its members understand the intricacies of compiling, installing, and using OpenSolaris.
Both of our groups are interested in cutting-edge UNIX operating system technologies, so when our interests overlap, we'll be doing joint meetings with FROSUG (you thought FRUUG was hard to pronounce!) You'll find the OpenSolaris User Group on the Web at: opensolaris.org/os/community/os_user_groups/frosug.
---
At our last meeting, Sam Falkner gave an overview of DTrace, the dynamic tracing facility provided in the Solaris 10 Operating System.
Announcements, presentation slides, and writeups for past meetings are available in the FRUUG Meeting Archive. www.fruug.org/mtgarchive/index.html.
---
Until we find a permanent home, we'll only be bringing our new FRUUG library titles to each meeting. There are quite a few members with books currently checked out; please feel free to return your FRUUG library books at any meeting. New titles this meeting include:
Apache Derby— Off to the Races, from IBM Press
Asterisk, the Future of Telephony, from O'Reilly
Computer Privacy Annoyances, from O'Reilly
Core Application Development with PHP and MySQL, from Prentice Hall PTR
DNS on Windows Server 2003
Developing Feeds with RSS and Atom, from O'Reilly
Eclipse IDE Pocket Guide, from O'Reilly
Ending Spam, from No Starch Press
Learning Perl, from O'Reilly
Linux Debugging and Performance Tuning, from Prentice Hall PTR
PC Pest Control, from O'Reilly
Perl Best Practices, from O'Reilly
Pint & Click OpenOffice.org, from Prentice Hall
Self-Service Linux, Mastering the Art of Problem Determination, from Prentice Hall PTR
UML 2.0 in a Nutshell, from O'Reilly
You may check out books using your business card as your library card; you must be on the membership list to check books out. Books are due at the meeting following the one in which they are checked out.
Remember that your FRUUG membership entitles you to discounts on your book orders from Addison Wesley/Prentice Hall, IBM Press, O'Reilly & Associates, New Riders, No Starch, Paraglyph, PC Publishing, Pragmatic Bookshelf, SitePoint, and Syngress; refer to the FRUUG Web site for details.