---
Cndnsd Vrsn: 4 PM Thursday 4/7 ACS Room 123- Network Audio & Linux Video Hacks
---
---
The next meeting of the Front Range UNIX Users Group (FRUUG) will be held at 4:00 P.M. on Thursday April 7. Tom Cargill will talk about his recent hacking with network audio sources, and Alex Hsia will talk about MythTV, Personal Video Recorder (PVR) software for Linux. Both talks are on multimedia, and both talks promise to be lots of fun.

Globally, sources of Internet-based audio are growing steadily. In addition to music, there's a variety of news, science and spoken word entertainment. The sources vary from mainstream commercial and public radio stations to Internet-only stations and amateur 'podcasters'. They employ a wide variety of formats and protocols. Tom's talk will provide an overview of these sources, and describe an ad-hoc body of software that converts them for use in home stereo systems or portable music players.

Alex will talk about MythTV (http://www.mythtv.org), the homebrew Personal Video Recorder (PVR) project based on Linux. He'll cover the features of MythTV including support for multiple simultaneous recordings, its distributed architecture allowing multiple recording machines and multiple playback machines, HDTV support, MPEG4 compression, automatic commercial detection/skipping, automated program guide retrieval, a music module, DVD playback and archiving, game emulator frontend, image viewer, SIP phone module, etc. Alex will also cover his home configuration, including Knoppix based distribution, KnoppMyth (http://mysettopbox.tv), and the hardware chosen for his MythTV box.

Tom Cargill is a consultant and long-time FRUUG Executive Committee member. His bio can be found at www.profcon.com/profcon/tac.htm.

Alex Hsia is the senior network engineer at the NOAA-Boulder Network Operations Center. Alex has been at NOAA since 1995 and prior to that was a Unix systems administrator for a division of the Air Force Research Laboratories at Wright-Patterson AFB.
---
This meeting will be in room 123 of the CU Academic Computing Center building at Arapahoe and Marine Streets in Boulder. Marine St intersects Arapahoe at 38th St; the Computing Center is on the southwest corner.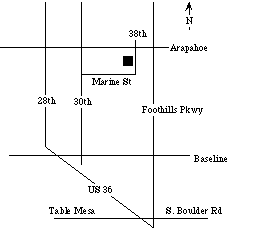 ---
At our January meeting, Gary Koenig talked about new Power Line Carrier (PLC) technology and how it overcomes many of the problems with X10. Also on the home automation topic, Alek Komarnitsky gave a quick overview of his christmas light Webcam hoax.
Announcements, presentation slides, and writeups for past meetings are available in the FRUUG Meeting Archive. www.fruug.org/mtgarchive/index.html.
---
We have two meetings on software development and testing lining up for May and June. In May we're planning a talk on the Linux Trace Toolkit, a way to see what your software is *really* doing once it's running. In June we're planning a meeting on test-driven development.
We'd like to do more meetings like this one, with short presentations on interesting technologies that FRUUG members are working with. If you are working on something that you'd like to give a 20-minute presentation on, please contact one of the Executive Committe members at the meeting.
---
We have lots of new books from Addison Wesley and Prentice Hall PTR including:
PHP-NUKE Garage
Sendmail Milters, A Guide for Fighting Spam
From O'Reilly & Associates, Paraglyph Press, Sitepoint, and Syngress this month, we have:
Build Your Own Database Driven Website Using PHP & MySQL
Google Hacks, Tips & Tools for Smarter Searching
Head First Servlets & JSP
Java Threads
Illustrations with Photoshop
Learning PHP 5
Managing Security with Snort and IDS Tools
Photo Retouching with Photoshop
Small Websites, Great Results
SQL in a Nutshell
Wireless Hacking
We have a copy of Intrusion Detection with Snort to give away to a FRUUG Library Merit Badge Holder, just click on the link in the News column at the FRUUG Web site.

You may check out books using your business card as your library card; you must be on the membership list to check books out. Books are due at the meeting following the one in which they are checked out.

Remember that your FRUUG membership entitles you to discounts on your book orders from both New Riders Publishing and O'Reilly & Associates; refer to the FRUUG Web site for details.