---
Cndnsd Vrsn: 4 PM Wednesday 1/26 ACS Room 123- Home Automation
---
---
The next meeting of the Front Range UNIX Users Group (FRUUG) will be held at 4:00 P.M. on Wednesday January 26. Gary Koenig and Terry Bolinger will update us on the latest home automation technologies, with a special guest appearance by Alek Komarnitsky.

At our December 2001 meeting, Gary Koenig gave us an overview of the latest home automation technologies followed by a tour of one of McStain's "smart" homes in Lafayette. This year, Gary Koenig and Terry Bolinger of Web Mountain Technologies will tell us what's new with home automation from the point of view of Power Line Carrier (PLC) technology. Their company develops and manufactures products for home automation based on a new standard for power line carrier technology known as UPB, the Universal Powerline Bus.

Gary and Terry will talk about home control, including structured wiring, and the four reasons that people choose to incorporate a level of automation in their homes, including safety, convenience, energy savings, and... ego. They will discuss how X10 technology is used in homes today, its limitations and performance issues, and how UPB hopes to overcome many of X10's limitations. They'll talk about competing systems from other commercial vendors, including hard-wired and wireless home control systems. Finally, they'll show how well their system works for IT professionals-- including a demonstration.

Alek Komarnitsky, a long-time FRUUG member was so inspired by Gary's last talk in 2001 that he decided that by the following Christmas he'd re-do his entire, over-the-top lighting display at his house to work with X10 controls that would be available to visitors at his Web site. Well, not quite. He got as far as a prototype state machine implementation that would make visitors think they were controlling the thousands of christmas lights at his house for xmas/2002. But since (even in 2004) the current state-of-the-art in consumer webcam technology is not yet capable of providing the image quality and pan/zoom speed desired, he wrote an image generator that used a set of pre-shot still images.

After (inter)national press, radio, and TV attention in mid-December over the "Colorado man who allows bazillions of people around the world to turn his 17,000 christmas lights on and off" (including a ride in the ABC-7 helicopter to provide a live report for the 6:00 news (see www.komar.org/xmas/movies), Alek finally fessed up by approaching the Wall Street Journal, which broke the story that the webcam/webcontrol was as real as Santa - sparking yet another media frenzy. For more information, check out Alek's page at www.komar.org/xmas/hoax. Alek will begin the meeting with a fast-moving, 15 minute overview of how the whole thing was done.

Terry Bolinger is founder and President of Web Mountain Technologies. With 28 years in the high-tech world, mostly with telephone equipment manufacturers, he's also held a VP position at XCEL Communications.

Gary Koenig has been active in home control, home automation, and digital audio/video for the home since 1998. He has more than 30 years of computer industry experience that includes acting as programmer, system analyst, operations manager, system administrator, IT manager, consulting and training manager, and is now VP of Sales and Marketing at Web Mountain Technologies.
---
This meeting will be in room 123 of the CU Academic Computing Center building at Arapahoe and Marine Streets in Boulder. Marine St intersects Arapahoe at 38th St; the Computing Center is on the southwest corner.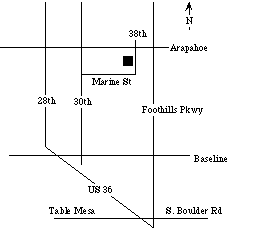 ---
At our November meeting, Barb Dijker told us of the success she's had at Netrack cutting spam with greylisting.
Announcements, presentation slides, and writeups for past meetings are available in the FRUUG Meeting Archive. www.fruug.org/mtgarchive/index.html.
---
We continue to set up meetings as we have interesting topics to cover. Let us know if you have a topic that you'd like to hear about or would like to volunteer to give a talk.
---
Four great books on spam arrived from O'Reilly just after our November meeting on Spam. Those books include:
Spam Assassin, covering version 3.0
Degunking your email, spam, and viruses
Spam Kings, a fun read that follows the history of some of the high-rollers in the spam world.
The Spam Letters
We have an extra copy of Spam Assassin to give away to a FRUUG Library Merit Badge Holder, just click on the link in the News column at the FRUUG Web site.

We have lots of new books from Addison Wesley and Prentice Hall PTR including:
Building Applications with the Linux Standards Base
Defend I.T.
Designing Software Product Lines with UML
Java Application Development on Linux
Linux Application Development
Linux Programming by Example
Outsource, Competing in the Global Productivity Race
PHP 5 Power Programming
Point & Click Linux
Secure Architectures with OpenBSD
The Tao of Network Security Monitoring
You may check out books using your business card as your library card; you must be on the membership list to check books out. Books are due at the meeting following the one in which they are checked out.
Remember that your FRUUG membership entitles you to discounts on your book orders from both New Riders Publishing and O'Reilly & Associates; refer to the FRUUG Web site for details.