---
Cndnsd Vrsn: 4 PM Thursday 3/4 ACS Room 123- Broadband Media
---
---
The next meeting of the Front Range UNIX Users Group (FRUUG) will be held at 4:00 P.M. on Thursday, March 4. Scott Kipp will give a fun talk on broadband digital audio, video and gaming in your home. Scott's talk will be followed by a demonstration of local Interact TV's Telly, a new Linux-based entertainment server-- with a pitch for open-source software developers to get involved. For all of you who like to make sure that your home has all of the latest technology, this meeting is for you.

Scott will begin the meeting by giving an overview of how digital content is sent, stored, distributed, and consumed in your home. He will cover the following topics:
Types of Content: Audio: mono - Surround Sound - Video: Black & White to HDTV - Gaming: Pong to Xbox
Examples of Home Entertainment Systems: Current mess of analog and digital systems - Broadband Home
Evolution of Entertainment Server: Multimedia PC - Digital set-top box with Personal Video Recorder - Gaming Consoles
Entertainment Distribution: Live performances - Over-the-air Broadcasts - Cable - Satellite - Internet
Growth of Bandwidth: Analog Broadcasts - Digital broadcasts - Broadband Internet access
Digital Television: SDTV - DVD/EDTV - HDTV
Conclusion: The Internet and mass storage on entertainment servers offers unprecedented choice for consumers.
Following Scott's talk, Ken Fuhrman, CEO of Interact TV, will demonstrate their Telly Linux-based home entertainment center and discuss the possibilities for open-source developers that it opens.

Scott Kipp is an author and electrical engineer with a wide range of experience. He has built infrared satellites for Hughes Aircraft, worked as an English teacher in Taiwan, developed X-ray cameras at Lawrence Livermore Labs, tended bar in England, sold fiber optic cables in Taiwan, and currently works as a software architect for McDATA Corp. Kipp is the author of four books, two of which are on storage networking, and he is a champion for emerging broadband technologies that are revolutionizing home entertainment. He keeps up-to-date on current technology topics such as entertainment servers, home networks, online piracy, digital content, and future technology trends. Kipp received his Masters of Science in Electrical Engineering from Cal Poly in San Luis Obispo, CA. He has written two books on storage networking for the Fibre Channel Industry Association.
---
This meeting will be in room 123 of the CU Academic Computing Center building at Arapahoe and Marine Streets in Boulder. Marine St intersects Arapahoe at 38th St; the Computing Center is on the southwest corner.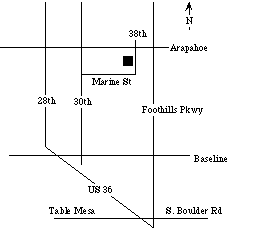 ---
At our January, 2004 meeting, Jeff Custard of NCAR talked about the benefits and challenges of converting NCAR's legacy PBX to a new IP technology system from Cisco.
Slides from Jeff's talk, and also from John Spiers' December talk are available on the FRUUG Web site.
Announcements, presentation slides, and writeups for past meetings are available in the FRUUG Meeting Archive. www.fruug.org/mtgarchive/index.html.
---
Some of the meetings we've set up for the future include:
April: A review of the MacOS X 10.3 (Panther) release
---
FRUUG Library Merit Badge holders can sign up for give-away books by visiting the FRUUG Web site and clicking on the give-away item in the sidebar. FRUUG merit badge holders are eligible for our frequent book give-aways, and all you have to do for a lifetime membership is to review any book from the FRUUG library and send the review to gaede at fruug.org.
We have two books to give away this month: Open Source Network Administration, and J2EE Security for Servlets, EJBs, and Web Services, both from Prentice Hall PTR.
If you're a FRUUG Library Merit Badge holder and would like to have a copy of this book, please sign up at www.fruug.org/library/giveaway.html
As usual, we have a Gift Certificate to SoftPro Books to give away to a FRUUG member attending the meeting.
---
We have several new books in the library this month:
Biometrics for Network Security, from Prentice Hall PTR
Essential Check Point FireWall-1 NG, from Addison Wesley
Malware-- Fighting Malicious Code, from Prentice Hall PTR
A Field Guide to WirelessLANs for Administrators and Power Users, from Prentice Hall PTR
You may check out books using your business card as your library card; you must be on the membership list to check books out. Books are due at the meeting following the one in which they are checked out.
Remember that your FRUUG membership entitles you to discounts on your book orders from both New Riders Publishing and O'Reilly & Associates; refer to the FRUUG Web site for details.