---
Cndnsd Vrsn: 4 PM Thursday 1/29 ACS Room 123- VoIP
---
---
The next meeting of the Front Range UNIX Users Group (FRUUG) will be held at 4:00 P.M. on Thursday, January 29. Jeff Custard, a Network Engineer with the National Center for Atmospheric Research (NCAR), will discuss NCAR's IP Telephony (IPT) deployment.

NCAR recently completed a conversion from a legacy PBX-based system to an IPT-based solution. Jeff will discuss IPT generally as well as the current architecture of NCAR's 1,800 phone, 1,400 user deployment. He will also go over some of the "lessons learned" and some of the realities of providing voice services on your data network.

Jeff Custard has been a Network Engineer with the Network Engineering and Telecommunications Section of NCAR's Scientific Computing Division for the last three and a half years. Prior to that, he worked in Academic Computing and Networking at the Colorado School of Mines. He holds a Bachelor's degree from Colorado State University and a Master's degree from the University of Texas at Austin.
---
This meeting will be in room 123 of the CU Academic Computing Center building at Arapahoe and Marine Streets in Boulder. Marine St intersects Arapahoe at 38th St; the Computing Center is on the southwest corner.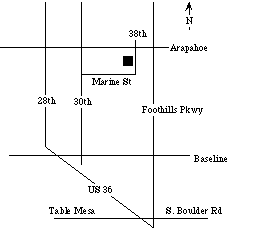 ---
At our December, 2003 meeting, John Spiers of LeftHand Networks discussed next-generation storage area networks based in IP protocols. John started with an overview of some of the storage management issues facing administrators today. He showed various charts on storage, data and computing trends. He claimed that in the future there will be more seamless bridges between systems and networks (showed diagram of an InfiniBand network). John's talk closed with a discussion of some industry trends such as when iSCSI would be widely available. Mark Carlson provided an in-depth review of John's talk. The complete review is located in the FRUUG meeting archive.
Announcements, presentation slides, and writeups for past meetings are available in the FRUUG Meeting Archive. www.fruug.org/mtgarchive/index.html.
---
Some of the meetings we've set up for the future include:
February/March: A review of the MacOS X 10.3 (a.k.a. Panther) release
---
FRUUG Library Merit Badge holders can sign up for give-away books by visiting the FRUUG Web site and clicking on the give-away item in the sidebar. FRUUG merit badge holders are eligible for our frequent book give-aways, and all you have to do for a lifetime membership is to review any book from the FRUUG library and send the review to gaede at fruug.org.
Although it came a little late for our last meeting, we have a give-away copy of Tom Clark's IP SANs, A Guide to iSCSI, iFCP, and FCIP Protocols for Storage Area Networks. This book is courtesy of Addison Wesley
If you're a FRUUG Library Merit Badge holder and would like to have a copy of this book, please sign up at www.fruug.org/library/giveaway.html
As usual, we have a Gift Certificate to SoftPro Books to give away to a FRUUG member attending the meeting.
---
We've had to postpone our planned MacOS X (Panther) meeting a couple of months, but in the mean time, we can offer members a copy of O'Reilly's Mac Developer Journal premiere issue. These CDs were handed out at the MacOS X conference this fall. and O'Reilly & Associates was kind enough to send us a stack to give away to our members. You can pick one up at this upcoming meetings (as supplies last).
We have a bunch of new books for the library this month:
Apache Cookbook, courtesy of O'Reilly
AppleScript, the Definitive Guide, courtesy of O'Reilly
IP SANS, A Guide to iSCSI, iFCP, and FCIP Protocols for Storage Area Networks, courtesy of Addison Wesley
Learning XSLT, courtesy of O'Reilly
MacOS X, The Missing Manual, Panther Edition, courtesy of O'Reilly
MacOS X Panther Pocket Guide, courtesy of O'Reilly
Migrating to the Solaris Operating System: The Discipline of UNIX-to-UNIX Migrations, a Sun Blueprint courtesy of Prentice Hall PTR
The Official Samba-3 Howto and Reference Guide, courtesy of Prentice Hall PTR
Online! The Book, Because the Internet Does Not Come with a Manual, courtesy of Prentice Hall PTR
Rapid Application Development with Mozilla, courtesy of Prentice Hall PTR
Software Architect Boot Camp, Field Manual for Becoming a Better Software Architect, courtesy of Prentice Hall PTR
UNIX Network Programming, Volume 1, The Sockets Networking API, Third Edition. This posthumously-released book by Richard Stevens was completed by Bill Fenner and Boulder's own Andy Rudoff. This book courtesy of Addison Wesley
You may check out books using your business card as your library card; you must be on the membership list to check books out. Books are due at the meeting following the one in which they are checked out.
Remember that your FRUUG membership entitles you to discounts on your book orders from both New Riders Publishing and O'Reilly & Associates; refer to the FRUUG Web site for details.