---
Cndnsd Vrsn: 4 PM TUESDAY 12/16 ACS Room 123- IP SANs
---
---
The next meeting of the Front Range UNIX Users Group (FRUUG) will be held at 4:00 P.M. on Tuesday, December 16. John Spiers, CTO of local storage company LeftHand Networks, will talk about his company's IP-based storage and data services based on the Linux platform.

Deploying shared storage on an IP network offers numerous advantages to users, including significant cost savings, simplicity due to the familiarity and existing tool set available with Ethernet, and the ability to support affordable disaster recovery with no distance limitations. This presentation covers how the LeftHand Networks IP-based Storage Area Network (SAN) solution combines these advantages of IP-based storage with a robust set of SAN services, offering users simple yet full-featured shared network storage.

As the Chief Technology Officer and visionary for LeftHand Networks, John Spiers sets the company's technology direction and oversees its advanced technology development. He has over 20 years of experience architecting, developing and implementing software & hardware technology solutions in the Storage Industry. He has held multiple engineering development, IT and management positions, starting with the first Winchester Disk Drive maker MiniScribe Corporation. Prior to founding LeftHand Networks, John was Director of Engineering at Maxtor Corporation, with responsibility for New Product Introduction for the Network Systems Group, Disk Drive Test Engineering and world-wide Factory Information Systems. John holds a B.S. in Mechanical Engineering from Colorado State University, Fort Collins, Colorado.
---
This meeting will be in room 123 of the CU Academic Computing Center building at Arapahoe and Marine Streets in Boulder. Marine St intersects Arapahoe at 38th St; the Computing Center is on the southwest corner.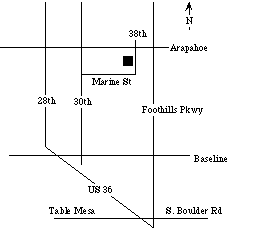 ---
At our last meeting, Joe VanAndel of NCAR reminded us of all of those annoying problems we've had to manage with make over the years, and the complexity that developers face when trying to make portable software distributions with autoconf/automake.
The solution that Joe has been using in his work is SCons, a next-generation build tool based on Python scripts. By using a flexible, extensible foundation, SCons can easily be extended to handle new languages (with new ways of recognizing dependencies); a wide range of methods for storing source files, including RCS/SCCS, CVS, and even tar and zip; and new development environments including Visual Studio.
Announcements, presentation slides, and writeups for past meetings are be available in the FRUUG Meeting Archive. www.fruug.org/mtgarchive/index.html.
---
Some of the meetings we've set up for the future include:
January 29: Voice over IP in real-life use
February (tentative): A review of the MacOS X 10.3 (a.k.a. Panther) release
---
FRUUG Library Merit Badge holders can sign up for give-away books by visiting the FRUUG Web site and clicking on the give-away item in the sidebar. FRUUG merit badge holders are eligible for our frequent book give-aways, and all you have to do for a lifetime membership is to review any book from the FRUUG library and send the review to gaede at fruug.org.
This month we have the Prentice Hall PTR book Practical Programming in Tcl and Tk, by Brent Welch, Ken Jones, with Jeffrey Hobbs.
If you're a FRUUG Library Merit Badge holder and would like to have a copy of this book, please sign up at www.fruug.org/library/giveaway.html
Finally, we once again have a Gift Certificate to SoftPro Books to give away to a FRUUG member at the meeting.
---
We've had to postpone our planned MacOS X (Panther) meeting a couple of months, but in the mean time, we can offer members a copy of O'Reilly's Mac Developer Journal premiere issue. These CDs were handed out at the MacOS X conference this fall. and O'Reilly & Associates was kind enough to send us a stack to give away to our members.
Mac Developer Journal is a digital publication geared to Mac developers (especially new ones) who are using MacOS X's underlying Cocoa and UNIX in their development. This issue contains articles and examples on using XCODE, Web Kit, AppleScript, and additional articles including tips for PowerBook and iBook users, and even one on hacking your TiVo. You can pick one up at this and upcoming meetings (as supplies last).
We have one new book in the library this month:
How Secure is Your Wireless Network: Safeguarding Your WiFi LAN, from Prentice Hall PTR
You may check out books using your business card as your library card; you must be on the membership list to check books out. Books are due at the meeting following the one in which they are checked out.
Remember that your FRUUG membership entitles you to discounts on your book orders from both New Riders Publishing and O'Reilly & Associates; refer to the FRUUG Web site for details.