-- Our 3/20 meeting is postponed due to the weather! Stay tuned for a new meeting date!
---
Cndnsd Vrsn: POSTPONED-- Application Management with JMX
---
---
The next meeting of the Front Range UNIX Users Group (FRUUG) will be held at a date to be determined after we all dig out from the blizzard. Tad Frysinger will discuss monitoring and managing Java-based applications with the Java Management Extensions (JMX) API.

Distributed server-based applications running on ubiquitous hardware is commonplace today in most companies. Combine this with the capabilities of middleware to offer processing redundancy and a novel capability presents itself: any server can logically run any service required by any application.

Because of this change, monitoring and management of applications in production has become much more difficult. It is no longer sufficient to know if a server is simply up or down because specific applications are no longer tied to specific instances of hardware. Instead, it is necessary to understand which of the many applications deployed across the data center is suffering, what specific resource is causing the problem, and identify which machine is currently having the problem.

The Java Management Extensions (JMX) API provides the mechanism by which developers that are familiar with software applications can easily instrument them to allow the sophisticated interactive management required by the new generation of applications. This talk presents an overview of JMX, and an example of a commercially available product that utilizes JMX for monitoring and management "real world" applications.

Tad Frysinger is the the CTO and VP of Engineering at Alignment Software, which makes next-generation distributed application performance monitoring and management frameworks. In one of Tad's previous startup experiences, he worked to provide a high-volume messaging service which allowed companies to send interactive alerts to interested individuals over a variety of media devices. Another startup focused on delivering a platform for deploying speech-driven applications. In both, Tad experienced first hand the lack of good management software for modern technology deployments and was one of the factors drawing him to Alignment Software.
---
This meeting will be in room 123 of the CU Academic Computing Center building at Arapahoe and Marine Streets in Boulder. Marine St intersects Arapahoe at 38th St; the Computing Center is on the southwest corner.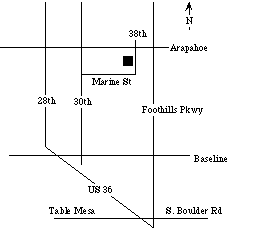 ---
At our January 2003 meeting, Dirk Grunwald from the University of Colorado discussed his and his research group's work adapting wireless technology to create wireless community networks using experimental routing protocols to enable peer-to-peer networks to form in order to provide service, for example, to wireless users beyond line-of-sight from a central base station.
Dirk's slides will be available in the FRUUG Meeting Archive when we can get hold of them: www.fruug.org/mtgarchive/index.html.
---
Our February meeting on IP-based Storage Area Networks, or iSCSI, was postponed indefinitely due to a change in our speaker's travel plans; no other meeting is currently scheduled.
---
Are you familiar with the new FRUUG Library Merit Badge program? If not, it might be a good time to learn all about it by consulting the FRUUG Library page on our Web site. FRUUG merit badge holders are eligible for our frequent book give-aways, and all you have to do for a lifetime membership is to review any book from the FRUUG library and send the review to gaede at fruug.org.
This month we have a copy of Addison-Wesley's Web Hacking, Attacks and Defense. If you're a FRUUG Library Merit Badge holder and would like the book, please sign up at www.fruug.org/library/giveaway.html
Finally, we once again have a Gift Certificate to SoftPro Books to give away to a FRUUG member at the meeting.
---
The list of new books this month includes:
Apache, the Definitive Guide, 3rd Edition, from O'Reilly.
Beyond Software Architecture, from Addison-Wesley
Firewalls and Internet Security, Second Edition, from Addison-Wesley
Linux Server Hacks, 100 Industrial-Strength Tips & Tools, from O'Reilly.
Inside Network Perimeter Security, from New Riders
PHP Cookbook, from O'Reilly.
Sendmail, Third Edition, from O'Reilly.
The UNIX CD Bookshelf, from O'Reilly.
You may check out books using your business card as your library card; you must be on the membership list to check books out. Books are due at the meeting following the one in which they are checked out.
Remember that your FRUUG membership entitles you to discounts on your book orders from both New Riders Publishing and O'Reilly & Associates; refer to the FRUUG Web site for details.
The New Riders discount program has changed; pick up a discount coupon with our secret password at the meeting.