---
Cndnsd Vrsn: 4 PM WEDNESDAY 1/15 ACS Room 123- Open Source Wireless Tools
---
---
The next meeting of the Front Range UNIX Users Group (FRUUG) will be held at 4:00 P.M. on Wednesday, January 15. Dirk Grunwald from the University of Colorado will be discussing his research group's work using open source tools for wireless community networks.

The proliferation of inexpensive 802.11b hardware makes it possible to construct wireless networks. More importantly, the growth in open source software enables controlling the internal function of 802.11b access points. Dirk Grunwald and his research group are working to build a "community wireless network" using relatively conventional hardware and open source access point software.

The talk will outline the motivation for the CommuNet project and much of the technology they have developed or have in use for the project. At the core of the software is the "Click Modular Router", developed at MIT; this has been extended to implement several ad hoc routing protocols, and Dirk will illustrate why it's such a useful environment. He'll also how how they integrated Click into a standard network simulation environment (ns2), allowing them to move identical code between a simulated environment and deployed hardware. Lastly, Dirk will discuss plans to use the HostAP and LocustWorld open source projects to build a scalable "mesh network", hopefully suitable for building community networks.

Dirk Grunwald is an associate professor in the computer science department, and works on a number of areas in computer systems including computer architecture, networking and storage systems. He received his PhD from the University of Illinois in 1989 and is profusely glad to be living in Colorado.
---
This meeting will be in room 123 of the CU Academic Computing Center building at Arapahoe and Marine Streets in Boulder. Marine St intersects Arapahoe at 38th St; the Computing Center is on the southwest corner.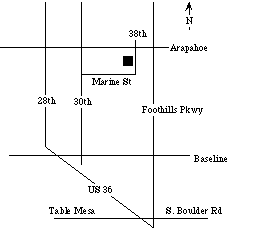 ---
At our December 2002 meeting, Cricket Liu of Men & Mice talked about a variety of threats to the Internet's DNS infrastructure, including distributed denial-of-service attacks, bugs in various BIND versions, the astonishing "normal" 98 percent rate of bogus queries seen at the root name servers.
Cricket's slides are available in the FRUUG meeting archive at www.fruug.org/mtgarchive/index.html.
---
Our next meeting is tentatively scheduled for February 3, 2003, with a talk on IP-based Storage Area Networks, otherwise known as iSCSI.
---
Are you familiar with the new FRUUG Library Merit Badge program? If not, it might be a good time to learn all about it by consulting the FRUUG Library page on our Web site. FRUUG merit badge holders are eligible for our frequent book give-aways, and all you have to do for a lifetime membership is to review any book from the FRUUG library and send the review to gaede at fruug.org.
Addison-Wesley sent us two copies each of "Wireless Security and Privacy," "Internet Site Security," and "Honeypots-- Tracking Hackers." These books are available to FRUUG Library Merit Badge holders who sign up on our Web site before noon the day of the meeting. Are you dying to get your hands one one of these hot titles? If you're not yet a Merit Badge holder, review any book from the FRUUG library before noon the day of the meeting, and you can take your pick of the three books.
Finally, we once again have a Gift Certificate to SoftPro Books to give away to a FRUUG member at the meeting.
---
The list of new books this month includes:
Test-Driven Development By Example, from Addison-Wesley
Proceedings of the 2nd Workshop on Industrial Experiences with Systems Software (WIESS '02), from the USENIX Association
Proceedings of CARDIS '02, Fifth Smart Card Resarch and Advanced Application Conference, from the USENIX Association
Proceedings of the 5th Symposium on Operating Systems Design and Implementation (OSDI '02), from the USENIX Association
Proceedings of LISA XVI, the Sixteenth Systems Administration Conference, from the USENIX Association
You may check out books using your business card as your library card; you must be on the membership list to check books out. Books are due at the meeting following the one in which they are checked out.
Remember that your FRUUG membership entitles you to discounts on your book orders from both New Riders Publishing and O'Reilly & Associates; refer to the FRUUG Web site for details.
The New Riders discount program has changed; pick up a discount coupon with our secret password at the meeting.