---
Cndnsd Vrsn: 4 PM Thursday 12/12 ACS Room 123- DNS Threats
---
---
The next meeting of the Front Range UNIX Users Group (FRUUG) will be held at 4:00 P.M. on Thursday, December 12. Cricket Liu, author of both "DNS & BIND" and "DNS & BIND Cookbook" will talk about new threats to the Domain Name Service (DNS).

There have been a number of recent attacks highlighting the vulnerability of the Internet's DNS Infrastructure, including:
A concerted and fairly successful attack against the root name servers
New vulnerabilities discovered in BIND implementations
The move of a root name server to provide better resilience in the face of an attack
Cricket will talk about these and other threats to the Internet's Domain Name System, both technical and political. He'll also remind you of some of the housekeeping chores you need to do to keep your name server up-to-date and secure.

Cricket Liu matriculated at the University of California's Berkeley Campus, that great bastion of free speech, unencumbered UNIX, and cheap pizza. He joined Hewlett-Packard after graduation and worked for HP for nine years.

Cricket began managing the hp.com zone after the Loma Prieta earthquake forcibly transferred the zone's management from HP Labs to HP's Corporate Offices (by cracking a sprinkler main and flooding Lab's computer room-- talk about serendipity!) Cricket was hostmaster@hp.com for over three years, and then joined HP's Professional Services organization to found HP's Internet consulting program.

Cricket left HP in 1997 to form Acme Byte & Wire, a DNS consulting and training company with his friend (and co-author) Matt Larson. Network Solutions acquired Acme in June 2000, and later the same day merged with VeriSign. Cricket worked for a year as Director of DNS Product Management for VeriSign Global Registry Services.

In September 2001, Cricket joined Men & Mice, an Icelandic company specializing in DNS software and services. He is currently their Vice President of Research and Development. Cricket, of course, lives in Boulder.

Thanks to O'Reilly & Associates for this great biography which was almost entirely lifted from the DNS & BIND Cookbook.
---
This meeting will be in room 123 of the CU Academic Computing Center building at Arapahoe and Marine Streets in Boulder. Marine St intersects Arapahoe at 38th St; the Computing Center is on the southwest corner.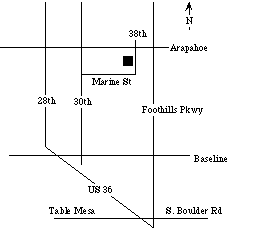 ---
At our September 2002 meeting, Barb Dijker of Netrack talked about her experience with anti-spam tools that work, focusing on SpamAssassin. Barb covered using SpamAssassin integrated with procmail and through the milter mechanism in sendmail, settling on the procmail approach as the less troublesome way to use the software.
There was a lively discussion of other approaches to filtering spam, including using black hole lists and spam checksum databases.
Barb's slides are available in the FRUUG meeting archive at www.fruug.org/mtgarchive/index.html.
---
Our next meeting is tentatively scheduled for February 3, 2003, with a talk on IP-based Storage Area Networks.
---
Are you familiar with the new FRUUG Library Merit Badge program? If not, it might be a good time to learn all about it by consulting the FRUUG Library page on our Web site.
In honor of Cricket Liu's talk, O'Reilly & Associates has sent us three copies of "DNS & Bind, 4th Edition" and "DNS & BIND Cookbook" containing solutions and examples for system administrators. One copy of each book goes to the FRUUG library; the second copy of each book goes to those Merit Badge holders who have reviewed books for the FRUUG library and who register for the give-away on our site; and the last two copies goes to two people who promise to send us comments on one of the DNS books or any other book in the FRUUG library before the next meeting. If you don't earn one of our give-away copies, Cricket will be on-hand after the meeting to sell you an autographed copy-- or you can bring in your own copy for an autograph!
Not to be outdone, Addison-Wesley has sent us two copies each of "Wireless Security and Privacy," "Internet Site Security," and "Honeypots-- Tracking Hackers." We'll make these extra copies available to FRUUG Library Merit Badge holders at our next meeting. Are you dying to get your hands one one of these hot titles? Check out a copy from the FRUUG library at the meeting. If you send us a review of the book, we'll exchange it for a give-away copy at the next meeting. It's as simple as that!
Finally, we once again have a Gift Certificate to SoftPro Books to give away to a FRUUG member at the meeting.
---
We once again have a huge number of new books for the FRUUG library, along with several give-away copies for this meeting. Remember that give-away copies are available to those who have earned a FRUUG Library Merit Badge by reviewing a book to provide feedback to our publisher friends. The list of new books this month includes:
BGP, from O'Reilly & Associates
Blogging, Genius Strategies for Instant Web Content, from New Riders
DNS & BIND 4th Edition, from O'Reilly & Associates
DNS & BIND Cookbook, Solutions and Examples for System Administrators, from O'Reilly & Associates
Digital Photography Pocket Guide, from O'Reilly & Associates
Dynamic HTML, 2nd Edition, from O'Reilly & Associates
A Guide to Forensic Testimony, from Addison-Wesley
Honeypots-- Tracking Hackers, from Addison-Wesley
Inside Solaris 9, from New Riders
Internet Site Security, from Addison-Wesley
MacOS X for UNIX Geeks, from O'Reilly & Associates
MacOS X, The Missing Manual, Second Edition (Covers Jaguar 10.2), from O'Reilly & Associates
Managing Information Security Risks, from Addison-Wesley
Object Design Roles, Responsibilities, and Collaborations, a draft manuscript from Addison-Wesley
Patterns of Enterprise Application Architecture, a draft manuscript from Addison-Wesley
Sendmail Performance Tuning, from Addison-Wesley
Test-Driven Development, a draft manuscript from Addison-Wesley
Wireless Security and Privacy, from Addison-Wesley
You may check out books using your business card as your library card; you must be on the membership list to check books out. Books are due at the meeting following the one in which they are checked out.
Remember that your FRUUG membership entitles you to discounts on your book orders from both New Riders Publishing and O'Reilly & Associates; refer to the FRUUG Web site for details.
The New Riders discount program has changed; pick up a discount coupon with our secret password at the meeting.