---
Cndnsd Vrsn: 4 PM **Tuesday** August 15 ACS Room 123- Intrusion Detection
---
---
The next meeting of the Front Range UNIX Users Group will be held at 4:00 P.M. on Tuesday August 15.

Intrusion detection systems are designed to alert network managers to unusual or possibly hostile events within the network. Marcus Ranum, in town for the USENIX Security Conference, will provide a technical overview of intrusion detection and forensic tools and methods.

Marcus J. Ranum is CEO and founder of Network Flight Recorder, Inc. He is the principal author of several major Internet firewall products, including the DEC SEAL, the TIS Gauntlet, and the TIS Internet Firewall Toolkit. Marcus has been managing UNIX systems and network security for over 13 years, including configuring and managing whitehouse.gov. Marcus is a frequent lecturer and conference speaker.

If you haven't already registered for the USENIX Security Conference in Denver, or for Marcus Ranum's Monday tutuorial, send your browser to: http://www.usenix.org/events/sec2000/ and register today!
---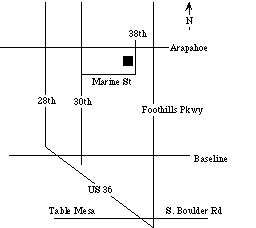 ---
Notes and resources from our other past meetings are available at http://www.fruug.org/mtgarchive/index.html. Tune into this page for notes and URLs from our last meeting on wireless networking technology.
---
We're working on a meeting on supercomputer technology for our September meeting.
---
We have a several new titles from our publisher friends this month.
From Addison Wesley:
Developing e-Commerce Sites, by Vivek Sharma and Rajiv Sharma
From New Riders:
Web Application Development with PHP 4.0, by Tobias Ratschiller and Till Gerken
From O'Reilly & Associates:
Building Internet Firewalls, Second Edition, by Elizabeth D. Zwicky, Simon Cooper, and D. Brent Chapman
And, from the USENIX Association:
Proceedings of the 2000 USENIX Annual Technical Conference, San Diego, June 18-23 2000
Proceedings of the FREENIX Track: 2000 USENIX Annual Technical Conference, San Diego, June 18-23 2000
You may check out books using your business card as your library card; you must be on the membership list to check books out. Books are due at the meeting following the one in which they are checked out.
We have recently updated our overdue book list; please make sure that, if we list your name, it's not in error. We count on you returning books on time so that other members may have the chance to use them as well.
Remember that your FRUUG membership entitles you to 20% off books from O'Reilly & Associates when ordered through their toll-free number, (800) 998-9938. Mention discount code DSUG.
---
---
Last Updated: 8 Aug, 2000 Problems? Contact our webmaster at fruug.org.