---
Cndnsd Vrsn: 4 PM Thursday July 20 ACS Room 123- Wireless Networking
---
---
The next meeting of the Front Range UNIX Users Group will be held at 4:00 P.M. on Thursday July 20.

Wireless networks are rapidly gaining popularity, replacing the need for traditional wired networks in some cases, and extending the reach of Internet services into areas where telephone and cable infrastructure is not cost-effective. The advent of the IEEE 802.11 standard has brought about a range of interoperating 11 Mbps network devices including integrated base stations and PC cards for both PCMCIA-enabled laptop and PCI-based desktop computers. Made popular by Apple's low-cost AirPort base station, home-based wireless LANs are making home networking more simple than ever. At USENIX Association conferences, participants are connected to each other and to the Internet through wireless access points. And within a five-mile geographic radius, wireless WANs can make high-speed connectivity between company locations, and even within neighborhoods cost-competitive with traditional telco or cable-based solutions.

With various FRUUG members working with wireless networking technologies, we thought it would be fun to have a meeting on how easy it is to bring up a wireless network at home or at the office. Our meeting will consist of a series of brief presentations followed by a panel question-and-answer session. The meeting will include a show-and-tell of wireless access points including those used by USENIX and CU, as well as the Apple AirPort.
John Lilley will give us a book report on all of his reading on the Radio Frequency (RF) technology behind wireless networks.
Barb Dijker will discuss wireless Wide-Area Networks.
Lynda McGinley will discuss setting up the wireless networks at USENIX and the University of Colorado.
Steve Gaede will talk about the Web sites that made him curious enough to bring up his own wireless network.
---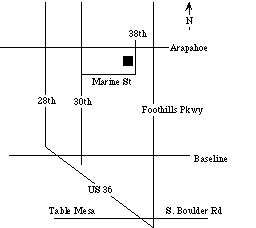 ---
Notes and resources from our other past meetings are available at http://www.fruug.org/mtgarchive/index.html. Tune into this page for a writeup on Cricket Liu's talk on new features in BIND 8.2.2-P5 last month.
---
We're hoping to have a speaker on August 15 from the USENIX Security Symposium in Denver, August 14-17. Tune your browser to: http://www.usenix.org/events/sec2000/ for details on the conference.
---
We have a whole bunch of new titles from our publisher friends this month.
Addison Wesley has updated our whole Java collection with the following new books:
The Java Programming Language, Third Edition, by Ken Arnold, James Gosling, and David Holmes
The Java Language Specification Second Edition, by James Gosling, Bill Joy, Guy Steele, and Gilad Bracha
Java Developers Almanac 2000, by Patrick Chan
Java 2 Platform, Enterprise Edition, Platform and Component Specifications, by Shannon, et. al.
Designing Enterprise Applications with the Java 2 Platform, Enterprise Edition, by Nicholas Kassem and the Enterprise Team
The Real-Time Specification for Java, by Bollella, Gosling, et. al.
Essentials of the Java Programming Language, by Monica Pawlan
JavaServer Pages, by Larne Pekowsky
Java Performance and Scalability, Volume 1: Server-Side Programming Techniques, by Dov Bulka
Java Platform Performance, Strategies and Tactics, by Steve Wilson and Jeff Kesselman
The Java 3D API Specification, Second Edition, by Henry Sowizral, et. al.
JNDI API Tutorial and Reference, Building Directory-Enabled Java Applications, by Rosanna Lee and Scott Seligman
Not to be outdone by their outstanding Java collection, Addison Wesley has also provided us with copies of:
Effective TCP/IP Programming, 44 Tips to Improve your Network Programs, by Jon C. Snader
Developing LDAP and ADSI Clients for Microsoft Exchange
And, to top it off, we have several new titles from O'Reilly & Associates, namely:
Java and XML, by Brett McLaughlin
Cascading Style Sheets, The Definitive Guide, by Eric A. Meyer
MacOS 9: The Missing Manual (The book that should have been in the box), by David Pogue
You may check out books using your business card as your library card; you must be on the membership list to check books out. Books are due at the meeting following the one in which they are checked out.
We have recently updated our overdue book list; please make sure that, if we list your name, it's not in error. We count on you returning books on time so that other members may have the chance to use them as well.
Remember that your FRUUG membership entitles you to 20% off books from O'Reilly & Associates when ordered through their toll-free number, (800) 998-9938. Mention discount code DSUG.
---
---
Last Updated: 11 July, 2000 Problems? Contact our webmaster at fruug.org.