---
Cndnsd Vrsn: 4 PM Thursday June 1 ACS Room 123-DNS and BIND
---
---
The next meeting of the Front Range UNIX Users Group will be held at 4:00 P.M. on Thursday June 1.

The Domain Name System (DNS) is the Internet's "phone book"; it's a database that tracks names and addresses for every computer on the Internet. Berkeley Internet Name Domain (BIND) is the UNIX implementation of DNS.

Cricket Liu will talk about the new features in BIND 8.2.2-P5, the latest released version of BIND (and maybe about the new features in BIND 8.2.3 and 9.0.0, if they're released in the mean time). These include enhanced forwarding, incremental zone transfer, a new version of ndc, the name daemon controller, and configurable RRset order.

Cricket Liu is the co-author of both of O'Reilly & Associates Nutshell Handbooks on the Domain Name System, DNS and BIND and DNS on Windows NT, and is the principal author of Managing Internet Information Services. Cricket worked for five and a half years at Hewlett-Packard's Corporate Network Services, where he ran hp.com, one of the largest corporate domains in the world, and helped design the HP Internet's security architecture. He later joined HP's consulting organization to found their Internet consulting business.

Cricket left HP in 1997 to start his own company, Acme Byte & Wire, with his friend and co-author Matt Larson. Acme Byte & Wire specializes in consulting and training on the Domain Name System, including both the BIND and Microsoft DNS Server implementations. Acme Byte & Wire's customers include over 10% of Fortune 100 companies. Currently, Cricket is working on the fourth edition of DNS and BIND.
---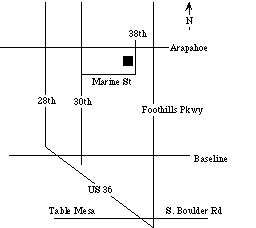 ---
Notes and resources from our other past meetings are available at http://www.fruug.org/mtgarchive/index.html. Please check in for a write-up on Steve Giles talk on open source network management.
---
We are working on some fascinating future meetings. Watch this space.
---
This month we have several Java-related titles from O'Reilly & Associates, including:
JINI in a Nutshell, by Scott Oaks & Henry Wong
Enterprise JavaBeans, by Richard Monson-Haefel
Java Performance and Scalability, Server-Side Programming Techniques, Volume 1, by Dov Bulka (this is a pre-publication book; let us know if you like it and we'll get the final copy when it's out)
From Addison Wesley, we have:
JavaServer Pages, by Larne Pekowsky
You may check books out using your business card as your library card; you must be on the membership list to check books out. Books are due at the meeting following the one in which they are checked out.
We have recently updated our overdue book list; please make sure that, if we list your name, it's not in error. We count on you returning books on time so that other members may have the chance to use them as well.
Remember that your FRUUG membership entitles you to 20% off books from O'Reilly & Associates when ordered through their toll-free number, (800) 998-9938. Mention discount code DSUG.
---
---
Last Updated: 11 May, 2000 Problems? Contact our webmaster at fruug.org.