---
Cndnsd Vrsn: 4 PM Tuesday April 25 ACS Room 123-- Network and Systems Management
---
---
The April meeting of the Front Range UNIX Users Group will be held at 4:00 P.M. on Tuesday April 25.

Steve Giles will discuss the effect of the open source revolution on network/systems management and compare technology in commercial platforms to open source alternatives. Emphasis is on the four value cornerstones of open source network management; speed, price, customizability and technology. Attendees are expected to understand basic network management concepts and relate to the problem of managing networks.

Steve speaks regularly on network management and business topics at international user groups and industry events. Steve's recent focus is on Open Source network management at OpenNMS.org. Steve Giles received a B.S. degree in Computer Science from Vanderbilt University in 1980, and he joined Hewlett-Packard in 1982. Steve resigned his post at HP in 1992 to pursue independent consulting and co-formed Onion Peel Software in 1994. In 1999 he formed N*MANAGE, and launched OpenNMS.org in late 1999. Steve is a certified OpenView and IT/O consultant and has taught OpenView Basics and Advanced OpenView to over 2000 students.
---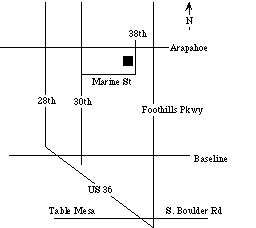 ---
Notes and resources from our other past meetings are available at http://www.fruug.org/mtgarchive/index.html. Please check in for a write-up on our last meeting on Rob Kolstad's talk about Cyberterrorism.
---
We don't have our next meeting planned yet, but here's a local event you might be interested in.
The Boulder Chapter of the ACM is sponsoring a Professional Development Seminar on Saturday May 13th featuring Tom Cargill presenting a 1-day technical introduction to XML for programmers. Space is limited; early registration ends April 25th. See www.acm-boulder.org/~mdd /acm_pds.html for further info.
---
The FRUUG library has a new book since the last announcement:
7th USENIX Tcl/Tk Conference Proceedings, February 14-18, 2000
You may check books out using your business card as your library card; you must be on the membership list to check books out. Books are due at the meeting following the one in which they are checked out.
We have recently updated our overdue book list; please make sure that, if we list your name, it's not in error. We count on you returning books on time so that other members may have the chance to use them as well.
Remember that your FRUUG membership entitles you to 20% off books from O'Reilly & Associates when ordered through their toll-free number, (800) 998-9938. Mention discount code DSUG.
---
---
Last Updated: 6 April, 2000 Problems? Contact our webmaster at fruug.org.