---
Cndnsd Vrsn: 4 PM Thursday April 6 ACS Room 123-- Cyberterrorism
---
---
The first April meeting of the Front Range UNIX Users Group will be held at 4:00 P.M. on Thursday April 6.

The recent denial-of-service attacks on major Web sites around the country has brought about an increasing awareness of the potential of cyberterrorism. Rob Kolstad will discuss cyberterrorism in the context of a presentation given to security organizations and corporations across the United States. Rob's talk addresses the ease with which hackers can penetrate the critical systems and potentially destroy the fabric of the network economy's infrastructure. The talk will be followed by a discussion and analysis of how to best convey messages about cyberterrorism to the general public.

Rob is the former president of Berkeley Software Design, Inc. (BSDI), former SANS program manager, and now finds himself in the throes of a one year sabbatical. Rob is an entertaining and well-known speaker in the UNIX community with interests including optimization, promoting computing as a profession, and racquetball.
Rob will be talking at SAGE later that same evening.
---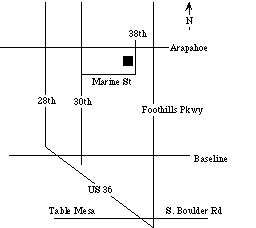 ---
Notes and resources from our other past meetings are available at http://www.fruug.org/mtgarchive/index.html. Please check in for a write-up on our last meeting on Barb Dijker's talk about SPAM.
---
On April 25th, we're planning a meeting by Steve Giles on Open Source and Enterprise Management.
---
The FRUUG library is populated with a large new collection of titles from New Riders Publishing, including:
Understanding Directory Services, by Beth and Dough Sheresh
Cisco Router Configuration and Troubleshooting, by Mark Tripod
Network Intrusion Detection: An Analyst's Handbook, by Stephen Northcutt
MySQL, by Paul DuBois
Linux System Administration, by Carling, Degler, and Dennis
Linux Essential Reference, by Ed Petron
Linux Firewalls, by Robert L. Ziegler
Solaris Essential Reference, by John P. Mulligan
From Addison Wesley this month, we've received:
The New X Window System; A complete Internet Architecture, by Charles F. Bowman
The Unicode Standard Version 3.0, by the Unicode Consortium
LDAP Programming with Java, by Rob Weltman and Tony Dahbura
And from O'Reilly, we have:
Ethernet, The Definitive Guide, by Charles E. Spurgeon
You may check books out using your business card as your library card; you must be on the membership list to check books out. Books are due at the meeting following the one in which they are checked out.
We have recently updated our overdue book list; please make sure that, if we list your name, it's not in error. We count on you returning books on time so that other members may have the chance to use them as well.
Remember that your FRUUG membership entitles you to 20% off books from O'Reilly & Associates when ordered through their toll-free number, (800) 998-9938. Mention discount code DSUG.
---
---
Last Updated: 23 March, 2000 Problems? Contact our webmaster at fruug.org.