---
Cndnsd Vrsn: 4 PM Wednesday January 26 ACS Room 123-- Jiro
---
---
The January meeting of the Front Range UNIX Users Group will be held at 4:00 P.M. on Wednesday January 26.

Service Providers and enterprises are struggling with the increasing cost and complexity of managing distributed resources and services. Vendors of these resources struggle with making their products more manageable, but spend much of their time creating management infrastructure. Sun Microsystems has created a new technology to address these issues in a portable, distributed fashion.

Jiro technology is a distributed management infrastructure based on the Java platform and Jini connection technology. Mark Carlson, Jiro Technologist and long time FRUUG member will present a technical overview of the Jiro technology. The Jiro technology is an implementation of the Federated Management Architecture, a standard extension to the Java platform created through the open Java Community Process.

Mark A. Carlson is the technologist for the Jiro initiative at Sun Microsystems, Inc. Mark has over 20 years of Unix experience in the Network and Storage industry and has close to 5 years of Java experience. He has given talks at numerous industry events throughout his career. Mark was one of the first employees at a small Boulder startup called Redcape Policy Software that was acquired in June of 1998 by Sun Microsystems.
---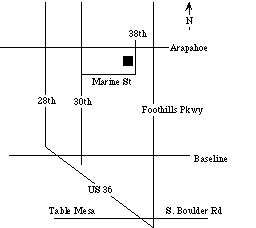 ---
Our December 1999 System Admin "Ask the Experts" panel consisted of:
Brad Doctor, SysAdmin and Networks Expert
Cricket Liu, DNS and Networks Expert
Paul Kooros, Perl, Java, JavaScript and Networks Expert
Evi Nemeth, SysAdmin and Networks Expert
Barbara Dijker, President of SAGE (The USENIX Association's System Administrator's Guild), announced the formation of a local group to complement FRUUG. She also announced a mailing list supporting Colorado-SAGE, and passed out a sign-up list. Interested parties can check http://www.NeTrack.NET/co-sage/.
The session format was not restricted to any topic threads, and many topics were discussed, from the microcosm of implementation details, to philosophy on big-picture issues. Aproximately 65 people were in attendance.
Some of the more notable topics included:
(The obligatory) Y2K issues of note.

Download vendor recommended patches.
Sun Y2K patches are being frequently augmented.
=> Download and install often
Probably the same for other vendors
Some vendors are bundling many non-Y2K patches in with the Y2K patch sets, reason unclear.
Most "experts" thought Y2K would not be a big deal, although "well, you never know" was heard often.

Fragility of the Windows2000 DNS implementation and deployment.

Win2k depends entirely on DNS. If DNS hangs, so does it.
Win2k DNS should probably exist in its own subdomain.
Cricket discussed the coexistance issues.

Cricket: 4th edition of O'Reilly DNS book coming soon; this will be the topic of a spring 2000 FRUUG meeting.
When will the 3rd Edition of Evi's SysAdmin Handbook be out?
Evi: Real soon now... working on it furiously.
Techniques of remotely managing groups of workstations discussed:
No one really uses NIS+
Nifty-neato tools or things that "experts" recently noted included: rrdtool, vim, MySQL, samba, make -p, and the free StarOffice.
Privacy implications of Netscape 4.x's "What's Related" feature. The browser transmits (to Alexa) every URL visited.
Many other topics.
Notes and resources from our other past meetings are available at http://www.fruug.org/mtgarchive/index.html.
---
Our February meeting will present ways to eliminate spam, or un-solicited e-mail, from your networks.
In March, we're planning a meeting on the upcoming new release of the Berkeley Internet Name Daemon (BIND) and other changes to DNS.
---
At our December meeting we unveiled the new FRUUG library cart that we've purchased with some of our FRUUG funds... no longer do we have to haul cardboard boxes in and out of the closet at the CU Academic Computing Center! We've tried to organize the cart shelves by topics like Java, software development, UNIX administration, Web servers, etc. Have a look and see if it makes any intuitive sense to you!
During the last months, several new books have arrived from our generous donors:
From Addison-Wesley:

Fundamentals of Object-Oriented Design in UML by Meilir Page-Jones
Enterprise Modeling with UML, Designing Successful Software through Business Analysis, by Chris Marshall
Managing Software Requirements, a Unified Approach, by Dean Leffingwell and Don Widrig

From O'Reilly and Associates:

Using Samba, a File and Print Server for Heterogeneous Networks, by Eckstein, Collier-Brown, and Kelly
Unix Backup & Recovery, by W. Curtis Preston

From the USENIX Association:

Proceedings of the 2nd Large Installation System Administration of Windows NT Conference, Seattle, July 1999.
Proceedings of the 3rd USENIX Windows NT Symposium, Seattle, July 1999
You may check books out using your business card as your library card; you must be on the membership list to check books out. Books are due at the meeting following the one in which they are checked out.
We have recently updated our overdue book list; please make sure that, if we list your name, it's not in error. We count on you returning books on time so that other members may have the chance to use them as well.
Remember that your FRUUG membership entitles you to 20% off books from O'Reilly & Associates when ordered through their toll-free number, (800) 998-9938. Mention discount code DSUG.
---
---
Last Updated: January 17, 2000 Problems? Contact our webmaster at fruug.org.