---
Cndnsd Vrsn: 4 PM Thursday December 2 ACS Room 123-- System Admin Panel
---
---
The December meeting of the Front Range UNIX Users Group will be held at 4:00 P.M. on Thursday December 2. As always, FRUUG members and non-members are invited to attend.

At this System Administration "Ask the Experts" panel. Brad Doctor, Paul Kooros, Cricket Liu, and Evi Nemeth will be available to field questions and discuss system administration issues. Come with your nagging problems and plaguing issues in hand. Barb Dijker, president of the USENIX System Administrators' Guild (SAGE), will also introduce Colorado SAGE and discuss future meetings of that group. Anyone unable to attend this meeting may want to subscribe to the Colorado SAGE mailing list at http://www.netrack.net/co-sage/.

Panelists available for this meeting include:
Brad Doctor, a sysadmin for Mancala, a Boulder-based startup. His areas of focus include large-scale messaging systems and systems in a high-availability environments.
Paul Kooros, a consultant who regularly teaches Perl for Tom Christiansen's Perl Consultancy. Paul also is keenly knowledgeable of many things hardware and network related.
Cricket Liu, the co-author of "DNS & BIND 3rd ed," "DNS on Windows NT," and "Managing Internet Information Systems." He is currently working on the DNS & BIND 4th edition to include BIND v9 and runs his own DNS consulting and training company, Acme Byte & Wire.
Evi Nemeth, co-author of "UNIX System Administration Handbook" 2nd ed. She is currently working on the 3rd edition and conducting network related research. Evi developed one of the first university system administration courses.
---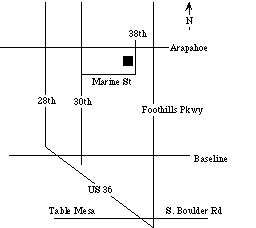 ---
He talked about the state of computer science upon his arrival at Berkeley and how CS departments often thought that research consisted of theorem proving; not "experimental" computer science that consisted of building systems. A result of his time at Berkeley was the shift in perspective that computer scientists should be able to publish their code much as a physicist would publish a refereed paper-- both are the results of extensive research.
Bill talked about how TCP/IP became the standard Internet protocol because the same set of code was developed and honed by developers around the world. Whereas the OSI protocol stack was "supposed" to supplant TCP/IP, the latter prevailed because of its open source nature. At an early "connectathon," the code was tested for interoperability between around fifty different ports to different operating system environments. In contrast, the same exercise with the ISO protocols consisted of a test of fifty different implementations of the same specification-- a much more daunting problem.
Bill did muse that a weak point of the resulting TCP/IP protocols is that there is now no commonality in how to handle transactions and security because they were not planned and done in an ad hoc fashion. For example, we have HTTP and HTTPS, but how about SMTP and SMTPS for secure e-mail. We don't have these facilities because they were never properly layered.
Bill talked about his search for a "safe" programming language, knowing that C++, like C, was basically a "peek and poke" programming language that is fraught with the problems of languages that allow pointers into memory. Bill reviewed the all-too-familiar debugging session where one piece of code keeps a pointer, uses it later, and interprets what was a string as a floating point number-- say 3.7-- and now you start trying to figure out who else in the environment might have such a number floating around. Java enables programming that is safe from these problems, and also enables a world where one can freely send code around. Because Java is interpreted, the world only has to agree on an interpretation of the byte code. You don't need to have 502 tests between ports of the same code (as in the TCP/IP days), only tests of 50 implementations of the Java virtual machine.
Bill closed with a discussion of the community source model of Jini, and how it contrasts with the "free" licensing used by other organizations, and with the licensing for Java that has required the courts for enforcement. The community source model limits access to code to those developing the system or application, and requires the developers to return the improvements to the community. The spirit of the community sourcing model is that you join the community, get access to the code, obey the rules, follow the compatibility tests, and don't abuse the trademarks. Bill compared Sun's community licensing strategy to the Visa model, where the various organizations providing credit cards to customers must interoperate with the Visa organization and follow their licensing terms to utilize the trademark. (Further information on Sun's licensing for Jini is available at http://www.sun.com/jini.
Apparently Bill enjoyed the meeting as much as we did, as he stayed way beyond his intended departure time answering questions for a good hour.
As Bill talked mostly extemporaneously, there are no viewgraphs or other materials for our Web site; resources from our other meetings are available at http://www.fruug.org/mtgarchive/index.html.
---
Our next meeting will be on Sun's Jiro initiative and how it can unify the management of storage across the enterprise.
Other meetings that are in the works include one on managing spam, DNS, and more on Jini.
---
Addison-Wesley was kind enough to provide a stack of the Jini Specification and JavaSpaces Principles, Patterns, and Practice to give away at last month's meeting. In addition, we have several other new books for the FRUUG library from AW:
The Pragmatic Programmer, by Andrew Hunt and David Thomas
Programming Pearls, Second Edition, by Jon Bentley
A Programmer's Guide to Java Certification, by Khalid A. Mughal and Rolf W. Rasmussen
Interconnections Second Edition, Bridges, Routers, Switches, and Internetworking Protocols, by Radia Perlman
Extreme Programming Explained, by Kent Beck
Object-Oriented Network Protocols, by Stefan Boecking
O'Reilly has sent us a large collection of books, including:
Java Enterprise in a Nutshell, by David Flanagan, Jim Farley, William Crawford, and Kris Magnusson
JavaScript Application Cookbook, by Jerry Bradenbaugh
Java Foundation Classes in a Nutshell, by David Flanagan
UNIX in a Nutshell, Covering SVR4 and Solaris 7, by Arnold Robbins
Finally, the USENIX Association has provided us with the proceedings from their Workshop on Embedded Systems, Cambridge Mass, March 29-31, 1999.
You may check books out using your business card as your library card; you must be on the membership list to check books out. Books are due at the meeting following the one in which they are checked out.
We have recently updated our overdue book list; please make sure that, if we list your name, it's not in error. We count on you returning books on time so that other members may have the chance to use them as well.
Remember that your FRUUG membership entitles you to 20% off books from O'Reilly & Associates when ordered through their toll-free number, (800) 998-9938. Mention discount code DSUG.
---
---
Last Updated: November 22, 1999 Problems? Contact our webmaster at fruug.org.