---
Cndnsd Vrsn: 4 PM Monday October 11 ACS Room 123 - Cool Smartcard Hacks
---
---
The October meeting of the Front Range UNIX Users Group will be held at 4:00 P.M. on Monday October 11. Peter Honeyman will talk about smartcard research and development at the University of Michigan's Center for Information Technology Integration.

For the past year, The University of Michigan's Center for Information Technology Integration has been engaged in smartcard-related research and development, jointly with Schlumberger's Austin Product Center. CITI's broad goals in smartcard R&D fall into two broad categories:
innovative computer security applications, and
new methods of interacting with smartcards.
To realize these goals, CITI has developed a number of exciting applications of smartcards:
Kerberos client integration
UNIX file system extensions
Secure operating systems
Internet access to smartcards
Smartcard-based web server
Palm Pilot integration and application development
In this talk, I will describe the results of these projects and our plans for future work.

Peter Honeyman is Director of the Center for Information Technology Integration, Research Scientist in the Information Technology Division, and Adjunct Professor of Electrical Engineering and Computer Science.

Honeyman holds the B.G.S. (with distinction) from the University of Michigan and the M.S.E., M.A., and Ph.D. degrees from Princeton University, where his research was in database theory. He has been a Member of Technical Staff at Bell Labs and Assistant Professor of Computer Science at Princeton University.

Honeyman has been instrumental in several software projects, including Honey DanBer UUCP, PathAlias, MacNFS, and Disconnected AFS. His research focus is on middleware, with an emphasis on security, distributed file systems, and mobile computing. He is the author of dozens of journal and conference papers and serves regularly on conference organizing committees. Honeyman is Secretary of the USENIX Association, Co-Vice Chair of IFIP TC 8.8, and a member of AAAS and EFF.
---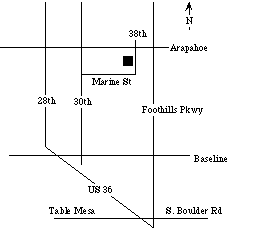 ---
---
There's a growing number of overdue books that we'd like to see returned to the library... please check the overdue book list and be sure that your name is not on it!
The USENIX Association has sent us a copy of the Eighth USENIX Security Symposium proceedings from August 1999.
You may check books out using your business card as your library card; you must be on the membership list to check books out. Books are due at the meeting following the one in which they are checked out. If you don't return your library books by the next meeting, you might find yourself on our overdue book list. We count on you returning books on time so that other members may have the chance to use them as well.
Remember that your FRUUG membership entitles you to 20% off books from O'Reilly & Associates when ordered through their toll-free number, (800) 998-9938. Mention discount code DSUG.
---
---
Last Updated: 23 September 1999 Problems? Contact our webmaster at fruug.org.