---
Cndnsd Vrsn: 4:00 Thursday July 23 ACS Rm 123 - ADSL
---
---
This month's meeting of the Front Range UNIX Users' Group (FRUUG) will present a variety of perspectives on ADSL-Asymmetric Digital Subscriber Loop-- the new technology being offered by U S WEST that promises to provide Internet access ranging from 256 Kbps to 768 Kbps all over an existing phone line that can still be used for normal telephony purposes. This meeting will provide a platform for a wide variety of service providers and users to discuss their service offerings as well as experiences selling, purchasing, and using ADSL services.
Susan Davey (srdavey at uswest.com), DSL Marketing Product Manager with U S WEST !nterprise will discuss the technology, service offerings, and the history and challenges of delivering ADSL service. She will be joined by Susan Chandler, an ATM engineer who will be providing us with more of the networking architecture behind ADSL service.

Spike Ilacqua (spike at indra.com), Chief Technical Officer and co-founder of Indra's Net, a Boulder-based ISP, will discuss their service offerings, experiences deploying the service in Boulder, and will contrast their ISDN service with ADSL.

Barb Dijker (barb at netrack.net) of Boulder-based Netrack, will discuss their service offerings, and some of the interesting ways in which Netrack provides ADSL service to both end-users, businesses, and even other ISPs.

John DeWolf (john.dewolfe at dewolfe.com) will present his experiences ordering and using U S WEST's ISP service, including the story of his ADSL installation, his upgrading to 512 Kbps service, and his use of static IP addressing.

Brad Owens (owenbl at seqnet.net) will discuss his experiences using ADSL ISP service through Louisville-based SEQNET.
Once we've had a chance to hear everyone's presentation, we'll ask all of the speakers to participate in a question-answer session that should be quite interesting.

---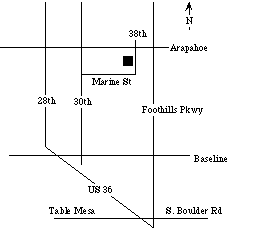 ---
At the last meeting of the Front Range UNIX Users Group Carl Oppedahl presented a very informative session covering various aspects of copyright, trade secret, and patent law. See his web site, http://www.patents.com for lots of information.
See the previous meetings page on the Fruug web site for more detail.
---
Fruug future plans are:
This fall we are working on presentations on XML, JINI, and some other surprises.
Contact the FRUUG Executive Committee at fruug at fruug.org if you have other interesting topic ideas or are interested in presenting a fruug talk.
---
Linux Application Development, from Addison Wesley,
Protecting Networks with SATAN, from O'Reilly & Associates,
Proceedings of the USENIX 1998 Annual Technical Conference, and Proceedings of the Fourth Conference on Object-Oriented Technologies and Systems (COOTS) , both from USENIX.
Just a reminder that O'Reilly and Associates offers FRUUG members a 20% discount on books ordered through their 800 number. Just call them at (800) 998-9938 and give them the code "DSUG" to get the discount.
You may check books out using your business card as your library card; you must be on the membership list to check books out. Books are due at the meeting following the one in which they are checked out. If you don't return your library books by the next meeting, you might find yourself on our overdue book list. We count on you returning books on time so that other members may have the chance to use them as well.
---
---
Last Updated: 15 July 1998. Problems? Contact webmaster at fruug.org