---
The Cndnsd Vrsn: 4:00pm Tuesday March 24 ACS Rm 123 - What's Happening at SUN Microsystems?
---
---
Everybody is wondering what is going on with the opening of Sun's new Broomfield facility. Even though the facility is not slated to open until late summer, Sun has already been staffing up in a variety of areas that are far beyond the service and support organizations most often mentioned in the media. At this month's FRUUG meeting, we'll hear what's going on from three different groups that are already operating in Broomfield, and we'll also have a look at some of the architectural drawings and plans for their facility. The talks are as follows:
Filesystems at Sun - As storage capacity continues to grow, the need to configure your storage and use it reliably has grown as well. Traditional UNIX crashes due to media failure (i.e. "freeing free inode") now cost large sites millions of dollars in down time. Andy Rudoff will describe Sun's approach to storage and filesystems.

Andy Rudoff is the manager of Sun's Filesystems group in Broomfield, CO. He has over 15 years UNIX kernel internals experience (about 5 of those years at Sun).

Alternative Workplace Technology - Alternative Workplace Technology (AWT) is the "work from anywhere" group within Sun. We maintain traditional remote access to Sun's information resources with modem pools, ISDN, and other high speed connectivity. In addition, we support Sun's new Virtual Private Networking project, Sun.Net, which allows access to mail, calendar, internal web sites and other applications from any computer, at any time, anywhere in the world for the price of a local phone call.

Mark Monroe is the Program Manager for Sun.Net. Although new to the AWT group, he has been an active user and researcher of remote access technology for all of his 4 years at Sun.

Electronic Training Environments - The Sun Educational Services - Product Engineering group develops tools and applications required for web-based and intranet- and internet-based training environments. Most work is Java-based and we are using the advantages inherent in the Java Programming Model. Our target customers are generally large organizations with significant training needs. As is typical today, their computing environments are multi-platform and distributed.

Scott Teel is the Chief Technology Officer for SunEd and the senior engineering manager for the Product Engineering organization. He has worked for a number of years on computer-based training applications, including the last two with Sun.

Dave Linder is a frustrated meteorologist who found his way to Sun in 1989 after years of working with antiquated computer equipment in the Federal government (can anyone say "8-year procurement cycle"?)
---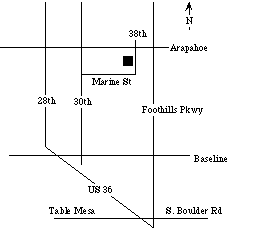 ---
At the second February meeting of the Front Range UNIX Users Group Storage Solutions Specialists, Inc., (SSSI) presented their ADSM family of software products which integrate unattended network backup and archive with storage management and powerful disaster recovery.
See the previous meetings page on the Fruug web site for more detail.
---
Our next couple of months are pretty well nailed down:
On April 16, Bob Gray will be talking about Source Code UNIX, why and how you'd use it, and what the advantages are over using the commercially-available object-code only releases. With this talk, we're sure that you'll come up with a dozen new uses for that old PC you have tucked in your closet.

In May, we're planning a session on legal issues. We think that FRUUG members would be most interested in the kinds of issues that come up as employees of high-tech companies, namely copyright and intellectual property issues. If you have any specific suggestions or questions you'd like addressed, please let us know at fruug@fruug.org.

In June Kevlin Henney, who did our January talk on Designing Distributed Object Systems with CORBA will be in town again and has offered to talk on Java Patterns. Date to be determined.
Contact the FRUUG Executive Committee at fruug at fruug.org if you have other interesting topic ideas or are interested in presenting a fruug talk.
---
From Addison-Wesley, we have: The Design Patterns Smalltalk Companion, OSPF-- the anatomy of an Internet routing protocol, Web Security, and Hands-On Linux, including a CD-ROM.

From Caldera, OpenLinux Version 1.2

From O'Reilly and Associates: The Perl resource kit, which includes a CD-ROM and just about every book that O'Reilly has produced on Perl, and TCP/IP Network Administration, Volume 2.

And from the USENIX Association: Seventh USENIX Security Symposium Proceedings from San Antonio, January 26-29, 1997.
With the addition of these new titles, we're planning to retire several of our older titles by giving them away to our members, so plan on a give-away at the next meeting.

You may check books out using your business card as your library card; you must be on the membership list to check books out. Books are due at the meeting following the one in which they are checked out. If you don't return your library books by the next meeting, you might find yourself on our overdue book list. We count on you returning books on time so that other members may have the chance to use them as well.
---
---
Last Updated: 10 March 1998. Problems? Contact webmaster at fruug.org