---
The Cndnsd Vrsn: 4:00pm Thursday February 26 ACS Rm 123 - Storage Management with ADSM
---
---
The award-winning ADSM family of software products is a comprehensive, enterprise-wide solution integrating unattended network backup and archive with storage management and powerful disaster recovery. NT is a strategic server platform for the ADSM client/server market. SSSI's STORServer(tm) solution integrates ADSM and NT with a "one part number" offering for small to mid-range size datacenters tasked to manage storage and restores for multi-platform environments. The STORServer is a centralized, storage and tape management network solution using NT as the backup server for over 35 client platforms. Come and hear how SSSI is building the NT arena as the premiere station for backup and restore management.
Laura Buckley is the Vice President of Consulting Services for Storage Solutions Specialists, Inc. Laura has over 15 years of experience in software support, systems management, technical marketing and engineering management. She is an expert in solving business problems related to systems and storage management. She developed her technical and management expertise while employed by Ford Aerospace Corporation, and Digital Equipment Corporation as a systems manager, technical software support specialist, technical marketing consultant and software engineering manager. She has worked extensively with customers to solve their technical and system problems related to systems and storage management. Laura is also an ADSM Certified Instructor and has given ADSM delivery and training presentations to dozens of Fortune 500 corporations.

---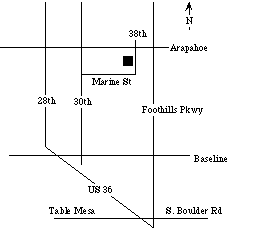 ---
At the first February meeting of the Front Range UNIX Users Group David Jordan discussed the ODMG's object-level database interface for Java.
See the previous meetings page on the Fruug web site for more detail.
---
We're working on a March meeting. Stay tuned...
Contact the FRUUG Executive Committee at fruug@fruug.org if you have other interesting topic ideas or are interested in presenting a fruug talk.
---
You may check books out using your business card as your library card; you must be on the membership list to check books out. Books are due at the meeting following the one in which they are checked out. If you don't return your library books by the next meeting, you might find yourself on our overdue book list. We count on you returning books on time so that other members may have the chance to use them as well.
---
---
Last Updated: 12 February 1998. Problems? Contact webmaster@fruug.org.