---
The Cndnsd Vrsn: ** 4:30pm** Tuesday January 27 ACS Rm 123 - Designing Distributed Object Systems with CORBA.
---
---
The design of distributed object systems introduces some subtleties that are not found in conventional object-oriented design. The majority of distributed system building is performed on an ad hoc basis, without perhaps the pool of experience and heuristics available in other fields, in languages in the form of idioms, and to object-oriented design in the form of design patterns.
This talk introduces the CORBA model of distributed computing, focusing on its history and future, IDL essentials and idioms, and some design and architectural patterns that support the creation of more effective distributed object systems.
The speaker, Kevlin Henney, is an object technology consultant, lecturer and course manager with QA Training. He specialises in object-oriented design and languages, which he has been applying over the last 8 years in distributed, multi-threaded, real-time, GUI and engineering applications. He is a member of the UK C++ standards committee and chair of the UML/OMT User Group in the UK.

---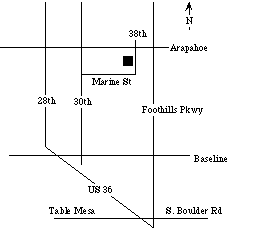 ---
At the December meeting of the Front Range UNIX Users Group Sunil Prakash, president of Global Software Focus, Inc. discussed internationalization and localization issues in application development.
See the previous meetings page on the Fruug web site for more detail.
---
We're working on some things, but nothing is sufficiently far along to post yet. Stay tuned...
Contact the FRUUG Executive Committee at fruug at fruug.org if you have other interesting topic ideas or are interested in presenting a fruug talk.
---
The Java Programming Language, Second Edition,
The Java Class Libraries SecondEdition, Volume 2, and
The Java 3D API Specification.
In addition, we have a copy of Lincoln Stein's Web Security-- a Step-by-Step Reference Guide, and Effective Tcl/Tk Programming-- Writing Better Programs with Tcl and Tk.
The USENIX Association has provided us with a copy of the proceedings of the USENIX Symposium on Internet Technologies and Systems, Monterey, California, December 8-11, 1997.
You may check books out using your business card as your library card; you must be on the membership list to check books out. Books are due at the meeting following the one in which they are checked out. If you don't return your library books by the next meeting, you might find yourself on our overdue book list. We count on you returning books on time so that other members may have the chance to use them as well.
---
---
Last Updated: 12 January 1998. Problems? Contact webmaster at fruug.org