---
The Cndnsd Vrsn: 4pm Tuesday September 9 ACS Rm 123 - Dr. Bruce Haddon: Internationalization with emphasis on Java
---
---
Internationalization of software is becoming increasingly important as the distribution of software becomes global. In the case of Java, distribution is immediate and automatic, to all parts of the WWW.
The Java Internationalization Specification described the intended support capabilities of the Java JDK 1.1 release. In this talk, these capabilities are described. The extent to which these meet the needs of internationalization will be examined, and evaluated from the points of view of the use of these capabilities by programmers, and the support that is given to subsequent localization. The area of concentration will be the Resource Bundle mechanism, and the interaction of this with the support of Locales in the AWT, but other areas in the JDK 1.1 pertinent to internationalization will be surveyed.
Dr. Bruce K. Haddon is Senior Technologist with Redcape Software, Inc., a Boulder start-up innovating and licensing Policy Management technology, developing a reference implementation of the technology in Java. Bruce has been involved with internationalization and localization issues for a decade and a half, has worked in Australia, Germany, Switzerland, France and the US, and is beginning to feel he understands a little Java after a year's use.
---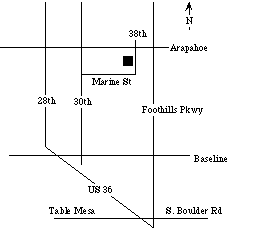 ---
At the July 22nd meeting of the Front Range UNIX Users Group Tom Cargill, noted Java expert and juggler, gave a talk on Java's Remote Method Invocation (RMI).
See the previous meetings page on the Fruug web site for more detail.
---
Novemebr: Some speakers will present their Apache WWW server experience.
Contact the FRUUG Executive Committee at fruug at fruug.org if you have other interesting topic ideas or are interested in presenting a fruug talk.
---
This month's library addition is Richard Smith's Internet Cryptography, courtesy of Addison-Wesley.
The USENIX Association has forwarded us a copy of the recent USENIX Windows NT Workshop Proceedings from their meeting in Seattle this August.
Caldera, Inc. has sent us a pile of OpenLinux Lite CDs and T-Shirts that we'll be giving away at our September meeting. If you're interested, please come to the meeting-- we probably have enough for everybody who's interested.
You may check books out using your business card as your library card; you must be on the membership list to check books out. Books are due at the meeting following the one in which they are checked out. If you don't return your library books by the next meeting, you might find yourself on our overdue book list. We count on you returning books on time so that other members may have the chance to use them as well.
---
---
Last Updated: 26 August 1997. Problems? Contact webmaster at fruug.org