---
The Cndnsd Vrsn: 4pm Thursday June 5 ACS Rm 123 - Rob Kolstad: Fast Mailing Lists and Web Sites.
---
---
If you're interested in performance of Unix boxes or, particularly, how to move more bits over a network link, this talk is for you. It includes only case studies presented as a pair of narratives that demonstrate general techniques for optimizing and tuning specific applications to increase their performance (measured as speed or latency or other characteristics).
This two-for-one talk includes discussions both on optimizing UNIX-based Web servers and E-mail servers for ultra-high throughput. The first case study will show how a PC can drive a T-3 line flat out with simple web pages. The second case study will demonstrate a simple series of steps that enables a PC mail server to achieve 100,000 e-mail deliveries per hour.
Rob Kolstad is president of Berkeley Software Design, Inc. and a well-known speaker in the UNIX community. His interests include optimization, promoting computing as a profession, and racquetball.
---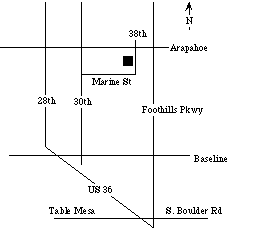 ---
At the May 15th meeting of the Front Range UNIX Users Group Mike Sanford of Santa Cruz Operation discussed the co-existence of SCO UNIX and Windows NT.
See the previous meetings page on the Fruug web site for more detail.
---
FRUUG is looking for users of the Apache WWW server on UNIX for a possible Fall meeting on WWW server experience. If anyone is currently running that server or knows anyone who is running it, please contact fruug at fruug.org.
Contact the FRUUG Executive Committee at fruug at fruug.org if you have other interesting topic ideas or are interested in presenting a fruug talk.
---
Remember the 900-plus page Sendmail book from O'Reilly & Associates? Well now they've condensed everything you need to know into the Sendmail Desktop Reference, which actually should be called the Sendmail Pocket Reference, since it is truly pocket-sized and contains everything you'll need to know about sendmail-- honest!
From Addison Wesley this month, we have the hypertext UNIX for the Hyper-Impatient. For those who would prefer to click their mouse rather than flip their pages, this one's for you.
You may check books out using your business card as your library card; you must be on the membership list to check books out. Books are due at the meeting following the one in which they are checked out. If you don't return your library books by the next meeting, you might find yourself on our overdue book list. We count on you returning books on time so that other members may have the chance to use them as well.
---
---
Last Updated: 16 May 1997. Problems? Contact webmaster at fruug.org