---
The Cndnsd Vrsn: 4pm Thursday May 15 ACS Rm 123 - SCO UNIX and Windows NT Coexistence
---
---
Santa Cruz Operation has introduced some new products to improve convenience and administration for users of both UNIX and Windows NT and to provide seamless integration between UNIX servers and Windows clients. This talk will focus on the technical aspects of these products, Advanced File and Print Server, and four products from SCO's Vision Product Family.
Advanced File and Print Server provides NT style file access and print services from an SCO UNIX platform and also provides integration to native NT servers. The Vision family of products provides SMB based file and print services to windows clients as well as Windows based GUI access to UNIX based character applications, X Windows applications and databases running on any UNIX platform.
Mike Sanford of Santa Cruz Operation will discuss the technical features and functionality in the Advanced File and Print Server. He will then turn to the Vision Products and discuss the services provided and interfaces to those services.
Mike Sanford is the Area Systems Engineering Manager for SCO's Western Area and is based in Dallas, TX. Prior to joining SCO in 1995, he was the Technical Services Manager for a large systems integrator in Dallas that specialized in UNIX, Mainframe and LAN integration and he has over 10 years of experience with SCO products.
---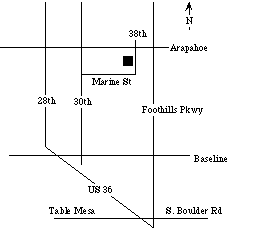 ---
At the April 22nd meeting of the Front Range UNIX Users Group George Watson gave a tour of the Java database access package.
See the previous meetings page on the Fruug web site for more detail.
---
Contact the FRUUG Executive Committee at fruug at fruug.org if you have other interesting topic ideas or are interested in presenting a fruug talk.
---
This month O'Reilly & Associates sent us the new edition of their classic sendmail book, covering sendmail Version 8.8 from Berkeley and the standard versions available on most systems. The second edition includes an expanded tutorial, and new topics including the #error delivery agent, exit values, MIME headers, and how to set up and use the user database, mailertable, and smrsh.
You may check books out using your business card as your library card; you must be on the membership list to check books out. Books are due at the meeting following the one in which they are checked out. If you don't return your library books by the next meeting, you might find yourself on our overdue book list. We count on you returning books on time so that other members may have the chance to use them as well.
---
---
Last Updated: 24 April 1997. Problems? Contact webmaster at fruug.org