---
The Bottom Line: 4pm Tuesday October 29 ACS Rm 123 - Cheap/Free Unix
---
---
At the October 29th meeting of the Front Range UNIX Users Group four speakers will discuss their personal experience with getting a Cheap/Free UNIX running a on low cost PC platform. The operating systems that will be discussed are Linux, FreeBSD, SCO and Solaris x86. The meeting will be at 4:00 MST.
Are you looking for a Cheap/Free UNIX to load on your PC? Been there, done that? Tired of struggling with that M$ OS, and having to pay for email, news and web server software? Well this meeting is for you!
Our four knowledgeable speakers will share their experiences with the most popular UNIX's for PCs. Topics will include:
Installation
Drivers
Stability
Compatibility
Cost/Licensing
Web client/server software
Each speaker will speak on the above topics, followed by a round-table discussion.
In addition, several UNIX vendors have donated copies of their CDs to the FRUUG Library, so you can take home a copy and try it out! We will also be giving away several copies of various PC UNIX's.
Our speakers this month include:
Karl Hudnut: Ph.D. Space Science Physics Univ Denver 1987.
Computer experience beginning 1975 on all major platforms.
Early 80's: Shunned IBM PC's as they were "only 8 bit computers." Worked with "Terak" in physics lab to collect data from experiments and up load to Data General and DEC "mini's" and "mains" for analysis.
Started using UNIX 1983 (BSD like port on DEC VAX). Been "on the Internet" since then.
Began doing system administration 1988 on SCO based UNIX.
Experienced with SUN, SCO, BSD, AIX, DEC and DG flavors of UNIX.
90% of my current work is on SCO UNIX on Intel based servers.
"Mac Head"
Warner Losh is a Member of Technical Staff at Ignite Technologies, LLC, a New York based Java solutions provider. Prior to joining Ignite Technologies, Warner has had extensive software development experience both professionally and as a hobbyist in a wide variety of emerging industries. Development projects include SLIP emulators, C++ X toolkits and GUI builders, Cellular Network Software Development, OS system testing, VMS TCP/IP product support, and a hair raising summer doing lightning research in college. In his spare time he has been porting Linux and OpenBSD to a ARC BIOS based MIPS machine, fixing minor bugs in FreeBSD, and throwing himself down snow covered mountains with nothing between him and death except two small pieces of wood...
Ken Mitton is an independent consultant and Boulder High School student. He has worked with Linux for two years, and now uses it for most day-to-day projects.
Edward J. Krohne is a Senior Software Engineer for Computerm Corporation (Pittsburgh, PA via tele-commute). He has 18 years experience in the Computer industry. Major companies include Cray Research, Network Systems, and McDATA Corp. Written assembly language diagnostics for micro-processor based systems, Vax/VMS Driver and ACP, Developed proprietary network protocols. Architected and implemented Streams based Network Gateway for IBM mainframes. Ad-Hoc network admin. Supported home class-C Internet address space and registered domain for last 3 years. Member of IEEE.
---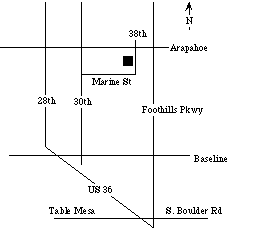 ---
previous meetings page on the Fruug web site for more detail on past meetings.
---
In December we are planning on having Joe VanAndel give a talk on "A UNIX Bigot's Reaction to Windows NT".

For January we are working on putting together a meeting addressing DNS, Bind and Internet name space issues.

We are looking for someone to do a presentation on the Be-Box.
Contact the FRUUG Executive Committee at fruug at fruug.org if you have other interesting topic ideas or are interested in presenting a fruug talk.
---
New to the Library this month: PC based UNIX CDs!

We have CDs of Linux (Red Hat, Slackware), FreeBSD and SCO for check-out. Take one of these home and install it on your PC, but please bring it back at the next meeting so that others will have a chance.

We've received a couple more titles in Addison-Wesley's Java Series: the Java Language Specification by James Gosling, Bill Joy, and Guy Steele, as well as the Java Virtual Machine Specification by Tim Lindholm and Frank Yellin.

From the USENIX association we've received the Proceedings of the Tenth Systems Administation Conference (LISA '96), Chicago, September 29-October 4, 1996.
You may check books out using your business card as your library card; you must be on the membership list to check books out. Books are due at the meeting following the one in which they are checked out.
---
It's time once again for our annual mailing list cleanup. In order to keep our mailing list as up-to-date as possible, if you haven't been to a meeting in the last year, we'll be removing your name from the mailing list unless we hear from you. If you think you're one of those people, you might want to check the FRUUG web site see if you're on the list and find out how to stay on for another year!
---
---
Last Updated: 15 October 1996. Problems? Contact webmaster at fruug.org